Karis got her ears pierced for her birthday. She's been asking about it for a few years now, and while I wasn't necessarily opposed to it, I just never got around to taking her. I did insist on taking her to a tattoo parlor rather than having some high school kid at Claire's do it. I'd rather it be done by a seasoned professional that respects the sanctity of a sterile needle over a bored teenager that suffers through their work hours for gas money, you know?
A girlfriend recommended a cute little place in Dana Point, but Jesse, ever the practical one, said that was too far, and found a closer place. Dude. We live in the beach bum capital of the world. We are surrounded by cool beach strip tattoo parlors. Hollywood and Venice Beach are a short car ride away. Did we venture anywhere near those places? No. We ended up in some dive strip-mall in Tustin.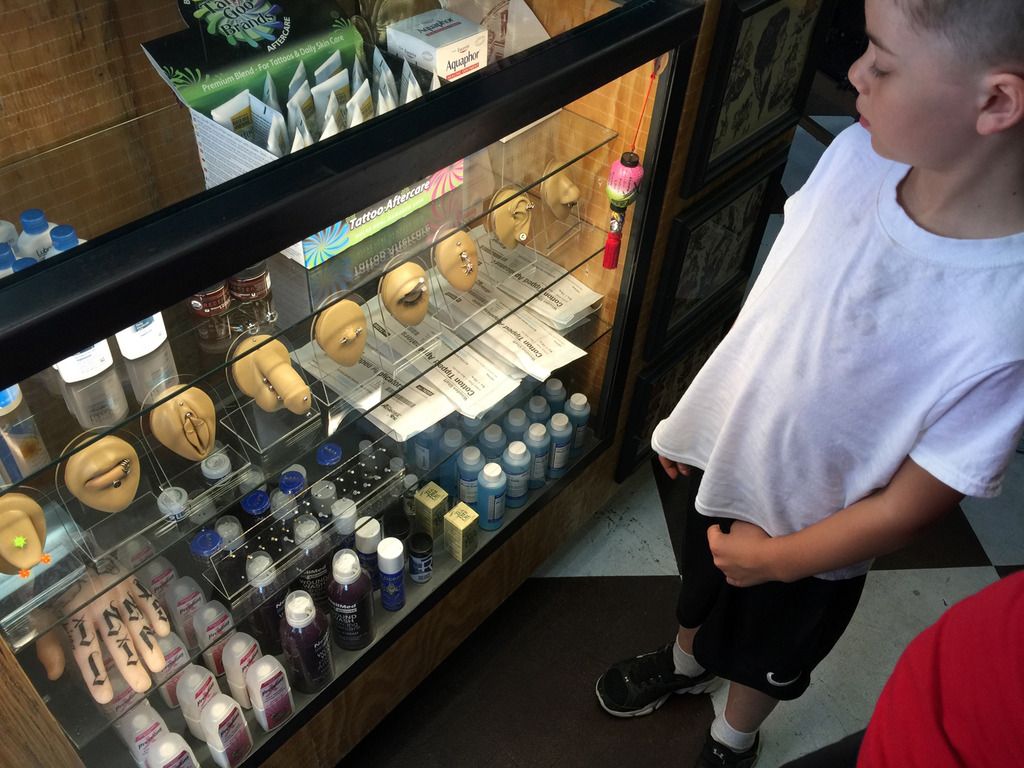 When we walked in we were immediately greeted by a glass case of pierced genitalia proudly displayed amid bottles of saline solution and novelty body jewelry. We had to wait a while for the tattoo artist to finish up the piece he was working on. Jesse had suddenly come down with Swine Flu or something and was hunched over on the sofa quietly wishing for the sweet release of death. I entertained the kids with my hilarious wit and charm, then I got bored too and just gave them a book of examples to look through. I probably should have skimmed through it first – but whatever. Brecken has seen body parts before. Now he's seen body parts with extra pieces of metal and art work and stuff. *shrug*
I had no idea why at the time, but for some reason they were playing Christmas music. On May 29. In a tattoo parlor. It struck me as funny. (Jesse would later tell me he overheard the tattoo artist tell his assistant to change the music to something kid-friendly when we came in. I guess Christmas music was the only safe bet. ADORABLE.)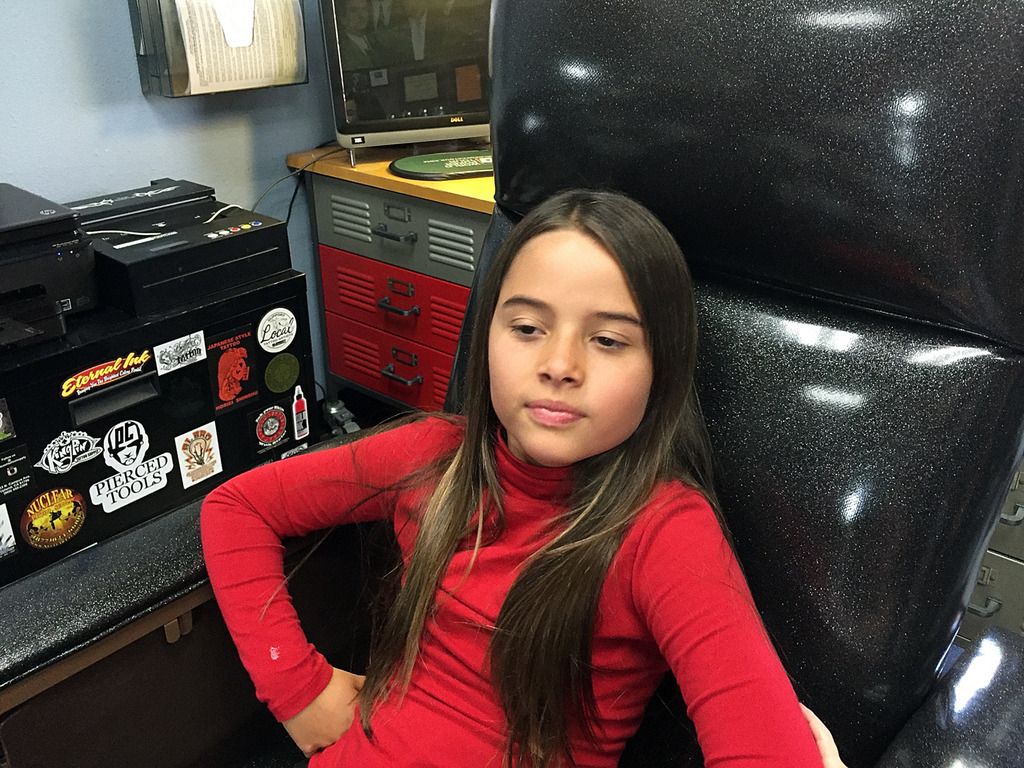 When it was finally go-time Karis's nerves kicked into overdrive. The girl who had just gotten a tattoo was super chill and tried to assure her it didn't hurt, but I knew no amount of talk was going to convince Karis. She just needed to experience it for herself. Edie – the tattoo artist – was awesome. He didn't have a lot of experience with kids, but he had plenty of experience poking holes in people and making art on their skin. He followed proper protocol and for all that his shop was an edgy, rock-a-billy/garage half-breed, inside the drawers were steri packs and surgical trays that would pass muster with my dad, Mr. Safety himself.
We discussed needles versus guns – and opted for needles.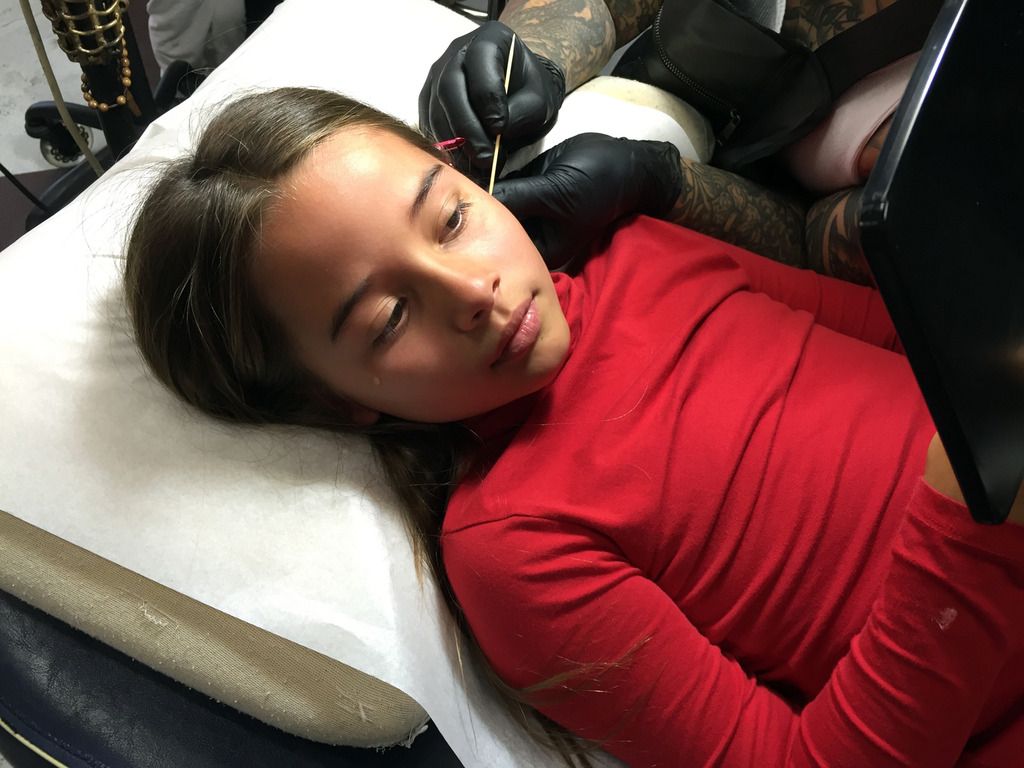 I filmed the whole thing at Karis's request, and the footage has this surreal quality about it due to the displaced Christmas music playing cheerily in the background. Karis just happened to be wearing a red turtleneck, which adds to the holiday flare. If I was channel surfing and happened upon this scene, I'd wonder what the hell I was watching. It was like the ultimate fish out of water improv scene. We have the heavily tattooed Edie, his squirrely assistant, the reeeeealy happy, newly tattooed chick, the awkwardly quiet, but very sweet sorority girl who came in behind us to get a Delta tattooed behind her ear, my green-faced, ill husband, my curious two-year-old, my blushing son, my nervous daughter, and me, the loud woman wearing the over-sized groupie shirt that says "Rhonda" above the pocket.
Karis was a champ. A tear or two slipped out – more from relief than pain. Brecken let out a few more snickers over the genitalia display as I paid for the saline solution. Jesse valiantly managed to not throw up (yet) while we finished the transaction, and we were on our merry way, Karis a bit wiser in the way of the world.
♪♪ And so I'm offering this simple phrase, to kids who want a neat tattoo; if you want ink after too much to drink, get your junk pierced there too. ♪ ♪