We did a double birthday party at Sky High this year. The year-round schedule falls so that school is out before Brecken's birthday this year, so he wouldn't have been able to host his usual full-class party at the park next door, so I decided to combine it with Karis's. As you can imagine, both kids were thrilled and excited to be able to share in the other's joy. Ha. They both bitched and moaned and complained about the unfairness of life. I told them to write it all down in a letter to their sponsor child, Saroj, and to be sure to use descriptive words because Saroj lives in a fucking mud hut in India, so he doesn't have a lot of experience with trampoline places with rope swings and foam pits.
Despite having to share a party, (oh the horror!) they had a blast. A sweaty, hyper, hoppy, jumpy, bouncy, exhausting blast.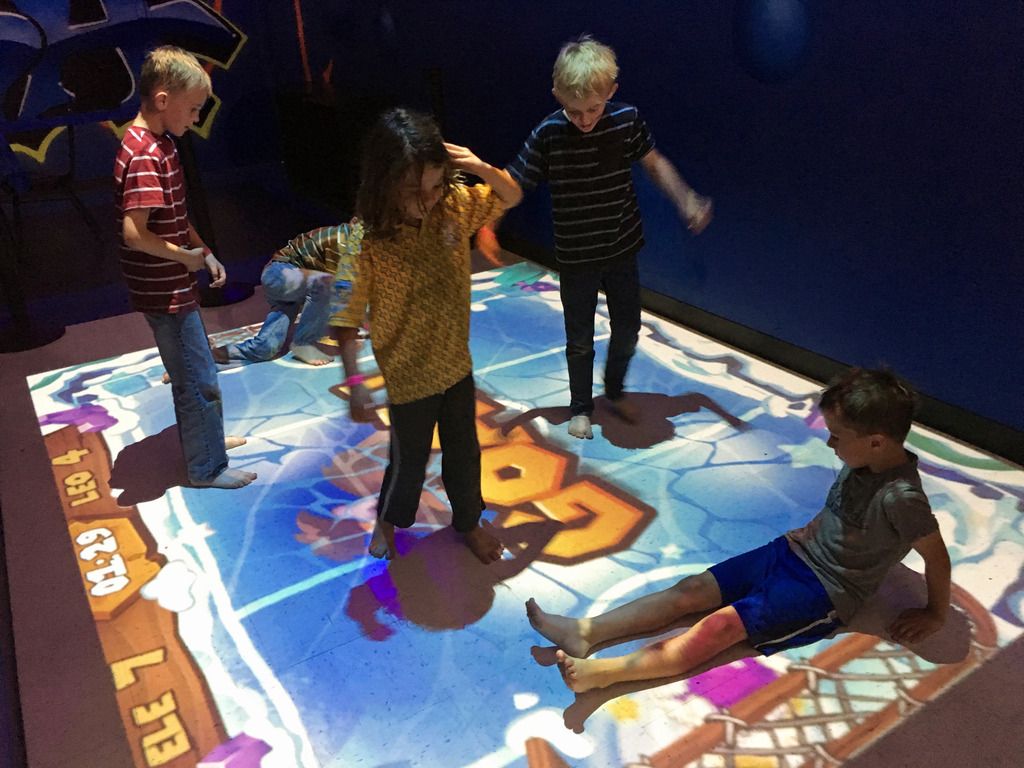 I tried to convince Karis to agree to a Mine Craft theme, but she was way too cool for a theme, which I came to terms with rather quickly because it made life much easier for ME. My health has been, shall we say, "on the fritz" lately, and I have learned the value of delegating jobs and picking and choosing how best to spend my energy. I had planned to make a cake that was a replica of a Sky High trampoline, but as I stood in the aisle at the grocery store and stared at the ingredients, I heaved a sigh and decided I'd let Ralph's make the damn cake. Once that decision was made, it was as if a great weight was lifted from my shoulders. I carefully drew a detailed picture of exactly what the finished cake needed to look like, and handed it over to the professionals. And you know what? they did a great job. I couldn't have done it better myself! All I had to do was throw a few Mine Craft figurines on top and toss on a few number candles and there you go. I also made a batch of cupcakes in case we ran out of cake, so technically I *did* bake.
I was worried Seren might get bounced around too roughly on the trampolines but I worried for nothing. That kid ruled the roost. She flounced around and held court, parading between trampolines, balancing on the bright yellow pads. She hit a wall of exhaustion around 7:15, but somehow pushed through it, and continued on in zombie mode well into the night.
Even I bounced around a bit. I lasted maybe thirty-seven seconds, but it felt like a long time.
For all that the lighting at these places always sucks, and your pictures never turn out, the trade off of not having to clean up anything is a big plus. I had the luxury of chatting with some of my favorite fellow moms, and shared the responsibility of keeping the two-year-old alive with Jesse and Aunt Dani. I would most definitely recommend a trampoline party to a friend if you don't mind the price gouging, and the risk of broken body parts. (I personally found the little stick figure warning video at the front counter to be very charming.)