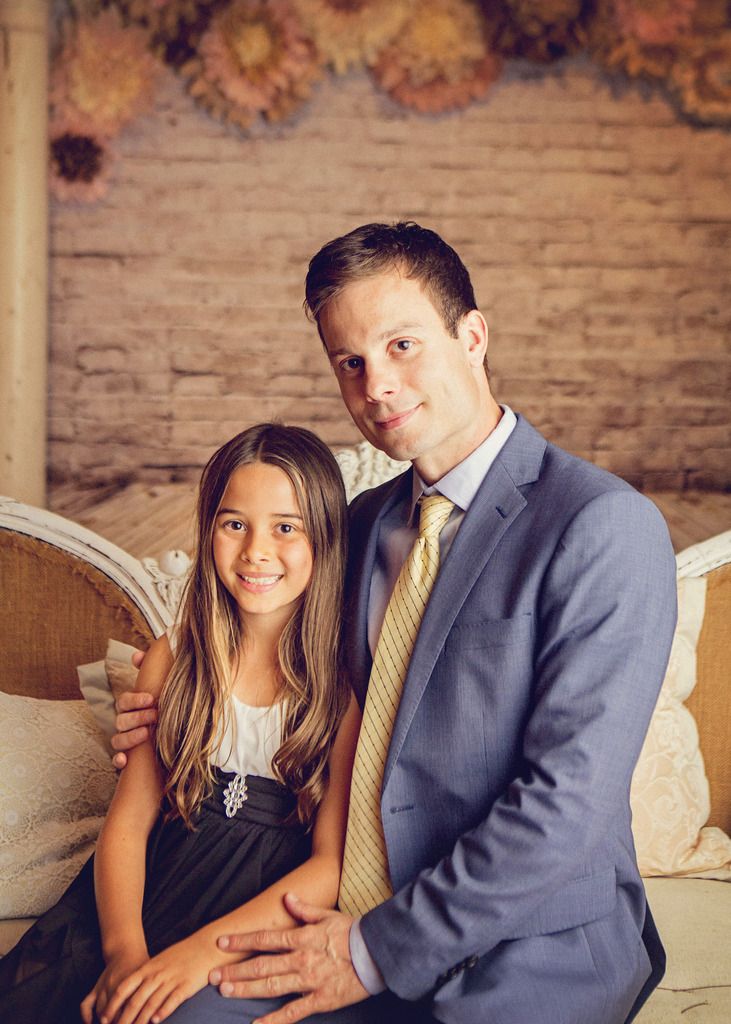 This year the school had a genius idea for a fundraiser. They put together a father daughter dance. (It was a raging success, and will become an annual thing!)
Karis was giddy with excitement about it. She picked out a dress – well, we went dress shopping, but she didn't like anything more than the dress we got her for chorus performances. It's black and white with an uneven hemline and made out of extremely flammable, synthetic material. (Can you tell how much I love it? When she wears it I smile too wide and my eye twitches.)
Because we didn't buy a new dress, and she had outgrown her flats, I said she could get better shoes to go with it. Naturally the only freaking shoes in the entire store that fit her and were the right color, were high heels. WHY DO THEY EVEN MAKE HIGH HEELS IN CHILD SIZES? Needless to say, she was out of her mind excited.
The morning of the dance I took her to get a mani-pedi while Brecken attended a birthday party.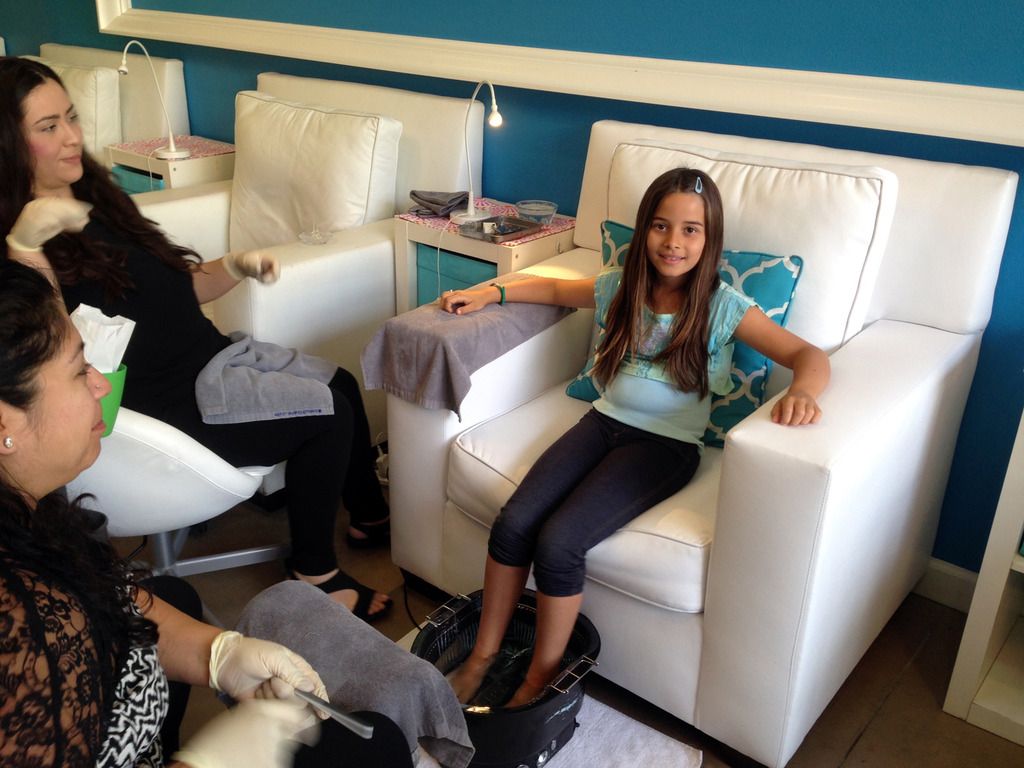 Her girlfriends arranged for a group of them to rent a limo. She felt like a rockstar when the limo pulled up to get her. (It came 10 minutes early and I was in the middle of frantically curling her hair and adjusting the corsage I made her.) Brecken took advantage of the time the limo had to wait for us to fully explore the long car. He was very impressed and wanted to know when HE can ride in a limo. I told him he'd have to campaign for a son mom prom.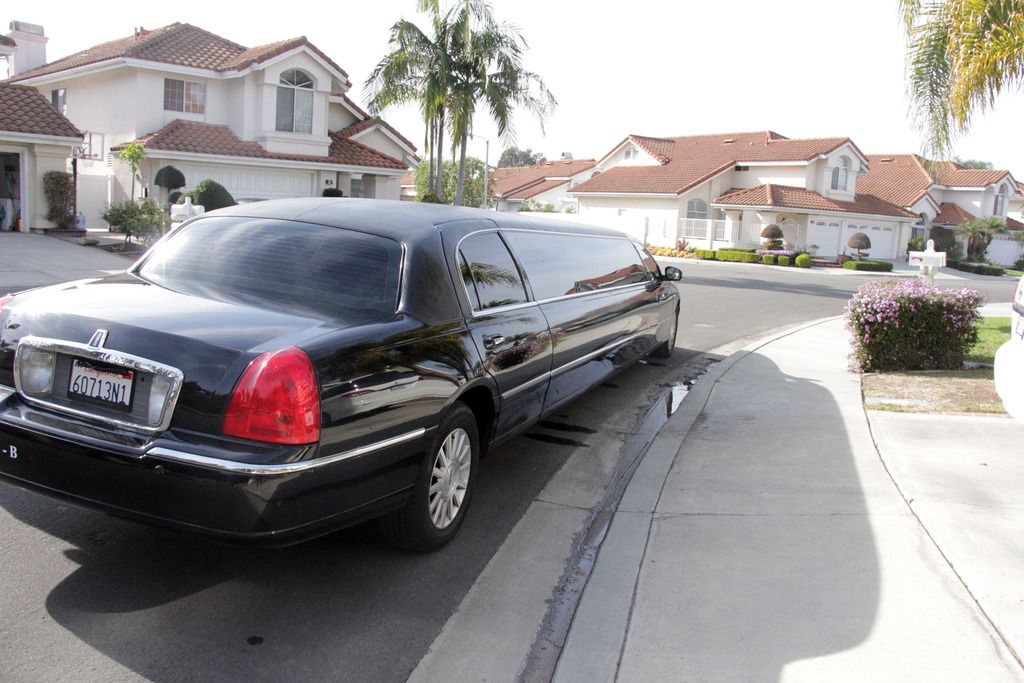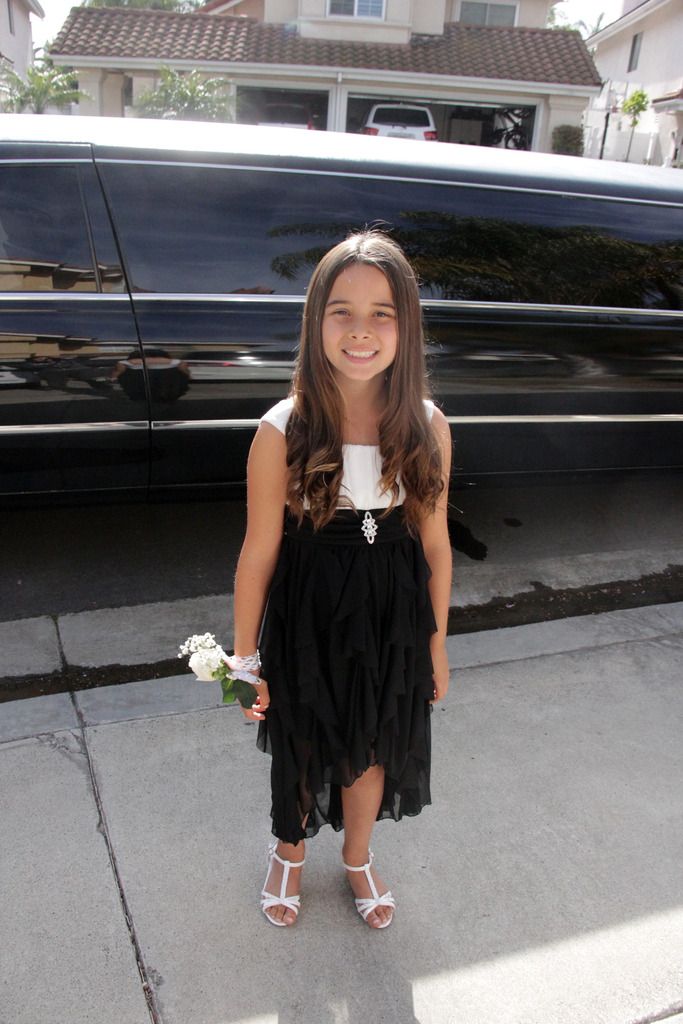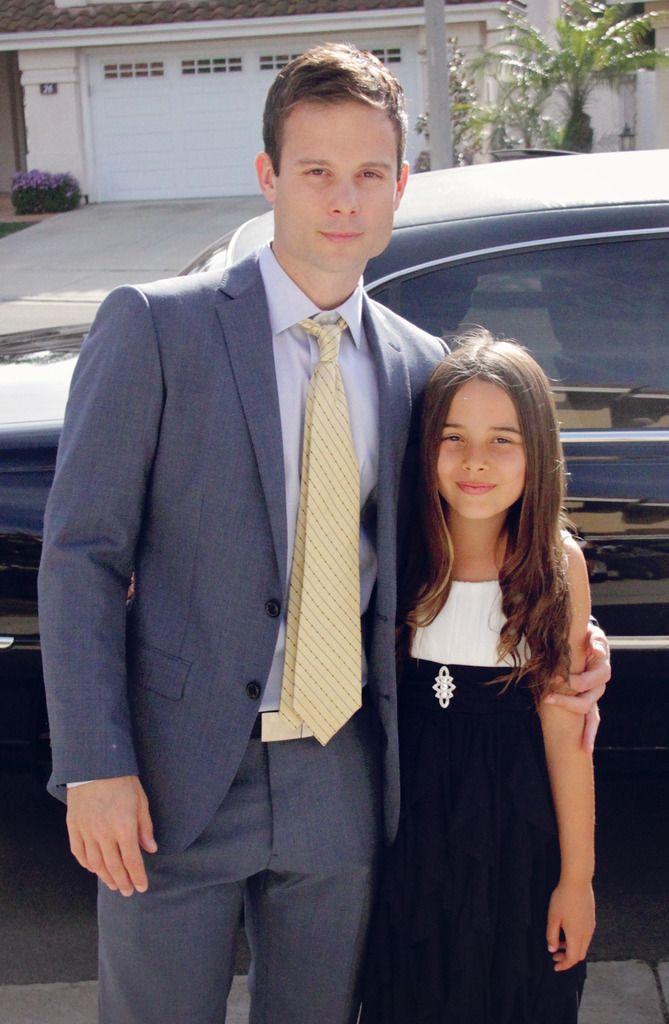 Father and daughter danced the night away. I'd give you details, but I don't actually know any. They were pretty vague when I asked about the night. Everyone definitely had a good time. Judging from the crazy hats and light up disco jewelry they brought home, it was a wild night!
When we went to go pick them up my stupid navigator took us the long way around and we ended up having to take the ferry. That was good and bad. The good part was getting to drive down the cute little beachy streets on Balboa Island. It's like being transported to another place and time – the beach cottages and houses are much cooler than the overdone, in-your-face contemporary monstrosities that line other beachfront areas of Newport Beach. The bad part was having to wait for roadwork, and being a little nervous on the ferry. Sitting on the ferry during the day is fun. Driving onto it at night and bobbing on the dark waves is creepy as hell. Brecken was convinced we were going to sink.
I had to wait in an illegal loading zone for them to come out of the venue. (It was held at Balboa Pavilion – a really cool, historical ballroom.)  I only got honked at twice! When they finally came out to the car, Karis was fizzing with glee. It was all worth it to see how happy she was to have had a fun night. (She has officially been out on a date with Jesse more often than I have in the last three years.)
Reading over this post just now I realized how negative I sound. That's fine, I guess. I write this blog mainly for my kids to look back on in the future. It's like a family scrapbook of sorts. I'm glad Karis had fun. I hope reading this post years from now helps her remember her magical night. I also hope it helps her realize that there is a lot of work that has to happen behind the scenes for her to have special nights like that. Quite often lately I have been painted as the Bad Guy by my kids, while their father gets the glory of being the Fun One. That seems to be the case with a lot of moms. Well, kids, the Bad Guy may not be the one twirling you around the dance floor, or sitting with you at the theater as you watch that movie you've been excited to see, but you wouldn't be doing any of those fun things without the Bad Guy taking care of all the details and watching the baby while you do big-kid things with the Fun One. You're welcome. We're happy to do it. We love you and want you to have fun. All we ask is a little thank you or hug of appreciation every now and then. And to maybe not be viewed as the Bad Guy. How about the Gets Shit Done Guy, or the Fix It Guy? Or just plain old Mom. Mom will do just fine.