We went to a birthday party this weekend at the California Science Center – you know, home of the Endeavour space shuttle.
It was a Star Wars theme, as so many are these days. The decorations were adorable, and the kid wranglers were on point. It serves me right for not having seen the new Star Wars movie yet, but one of the little buggers dropped a HUGE spoiler on me during the circle time. It was a devastating spoiler. For those of you who have seen the movie, you probably know what I'm talking about. Unless there are several devastating spoilers, then you'll just have to wonder which one I heard. Anyway, I was momentarily crushed. SAY IT AIN'T SO!!! Does anyone remember the Simpsons episode where Homer drops the Darth Vader paternity bomb?
Yeah, like that.
Anyway, the kids had a blast. Seren was right up there in the thick of it, running around and trying to keep up with the big kids. Each kid got a cute little jedi robe and sash, and Seren rocked hers with the best of them. She was the littlest jedi – and oh so cute.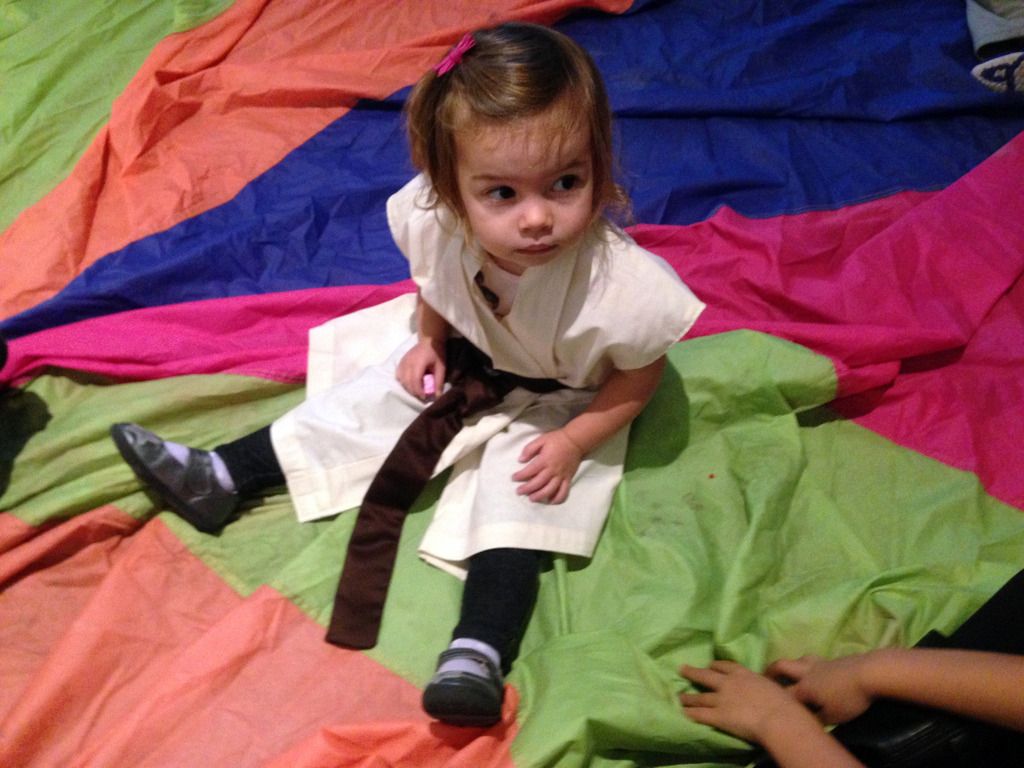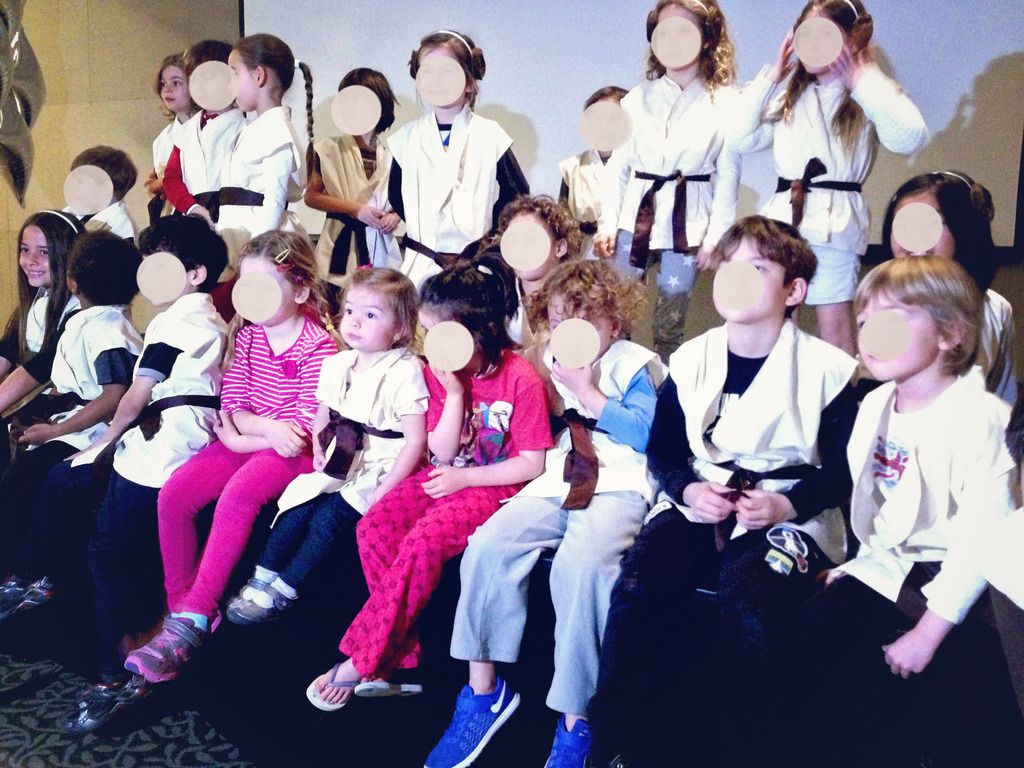 After running around like crazy jedi and eating cake and doing all the other things kids do at parties, we let them loose into the science center. We got to check out the Endeavour. That thing is HUGE. Seriously ginormous. Yeah, I get it, it's a freakin' space shuttle, but I just didn't realize how big those things are. It made me feel like a tiny action figure. If you're a very tall person and have ever wanted to feel small, I highly recommend checking out the space shuttle.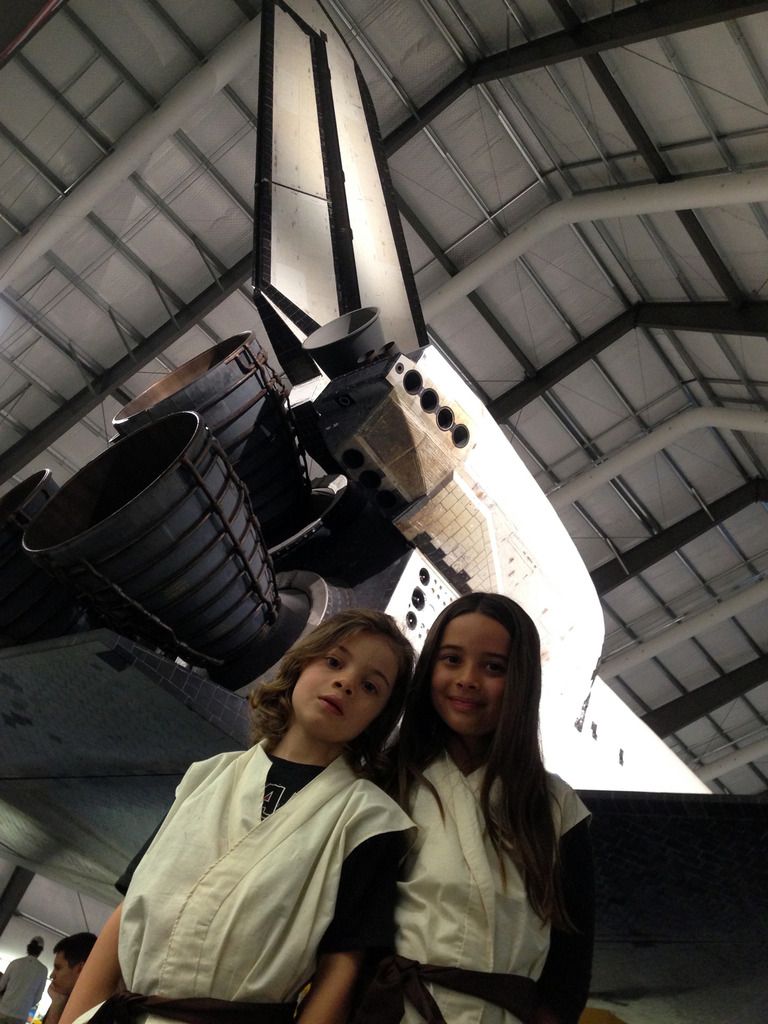 After the shuttle, we went into the kelp forest to watch scuba dudes feed fish with tongs. Yeah, they hand feed each fish to make sure everyone eats and nobody is inclined to dine on their neighbor. You walk through a glass tunnel (One of my all-time favorite aquarium features. I love it when they have those tunnels.) and then you're in a dark room with a giant wall of water. There are leopard sharks and giant something-or-others, and the California state fish which shall remain nameless because I can't remember it and I'm too lazy to look it up.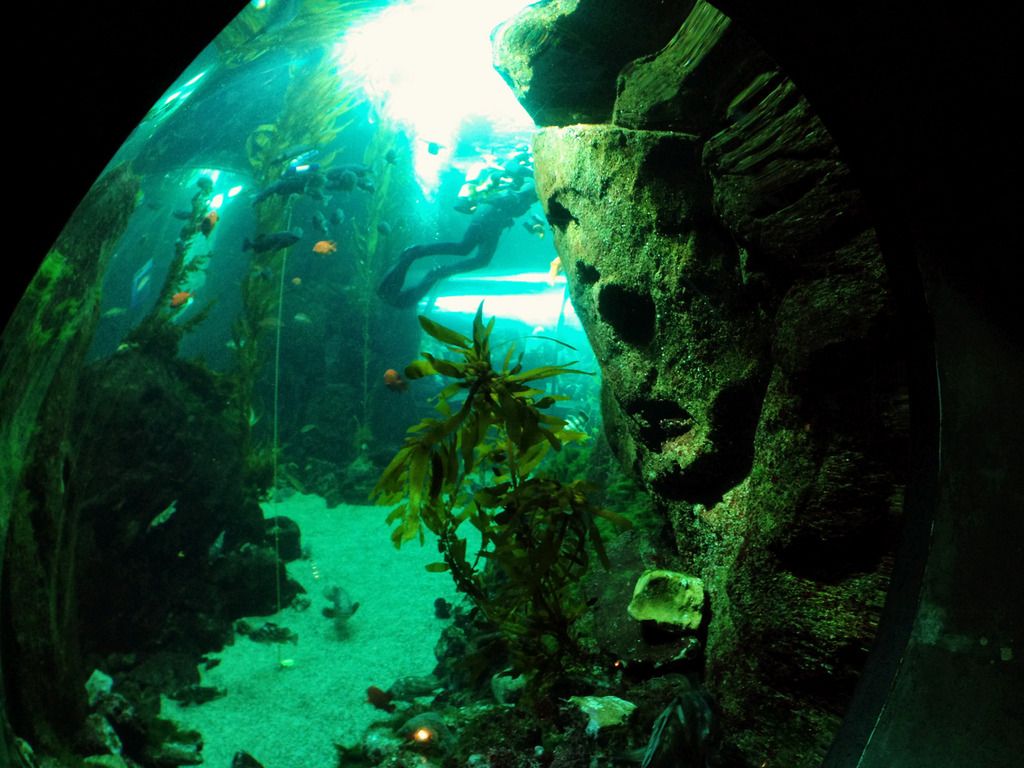 I'm told you can view into the tank from above as well, but I prefer the under water action. There were also mini tanks of jellyfish and gross snail type things… you know, standard aquarium stuff.
It was a long day, but a lot of fun. I even met some new moms. It's always nice to meet people you have things in common with aside from the whole motherhood thing.
Now we are all enjoying yet another head cold, which is unrelated to this post, but I still felt the need to share. Seren is a train wreck when she has clogged sinuses. She sleeps sitting up and keeps falling over and whacking her head. You can imagine how enjoyable the whole situation is. I'll probably lose my voice again, which everyone seems to enjoy but me *sad trombone* but at least our weather is uh-mazing! 80º in February? Yes, please.