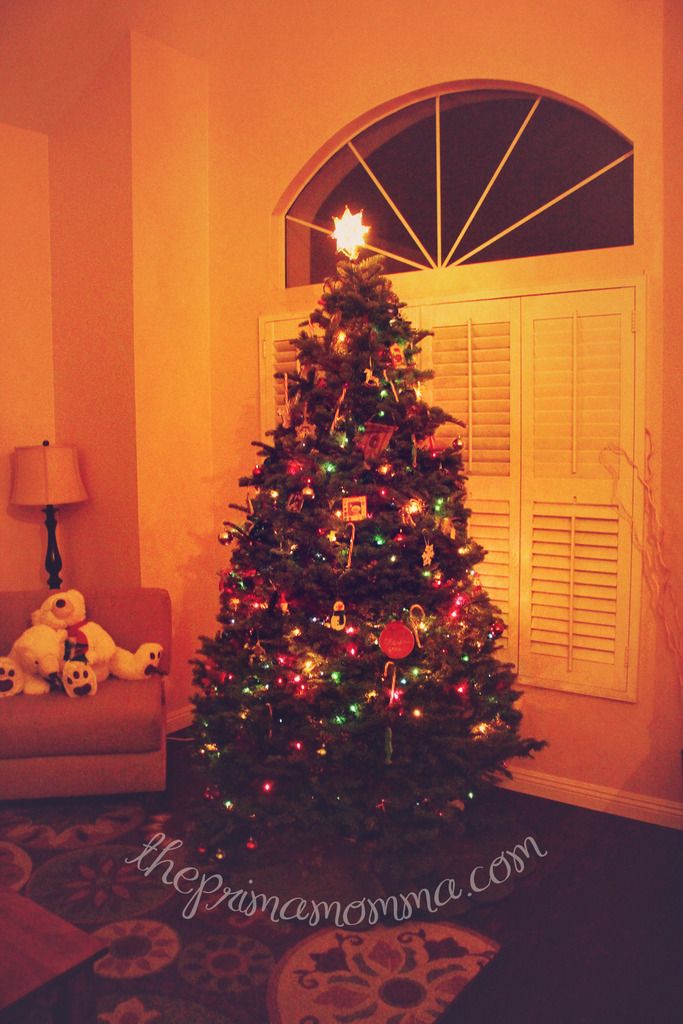 Our house looks different. It all started the week after Thanksgiving.  Jesse tried to convince me to get the Christmas tree at Walmart. (I'll pause while all of you who know me cringe and shake your head.) While we were there Karis saw a gaudy, multi-colored light up star that made her sweet little Mexican heart go pitter pat. She begged me to get it. I told her if she could find a tackier star, I would buy the one she had. She immediately pointed to an even uglier star with garland poking out of it and I laughed and bought her the damn star. Point Karis.
After Jesse finally grew tired of my bitching about Walmart, we went to our regular lot. I had been careful to grab the coupon off my desk on our way out the door. When we arrived, the kids went ape-shit, running around and playing hide and go seek among the trees. Even Seren got into the game. We found the perfect tree, and this year we were smart enough to have them attach the base at the lot, saving ourselves approximately two hours of swearing and bickering about how the tree is crooked and the other person is screwing it in wrong. When we went to pay I proudly handed over a coupon for… Papa Johns Pizza. I had grabbed the wrong coupon. We all had a good laugh and they gave us the discount anyway.
We got the tree home, decorated it, and then came the magical moment when we had to put the new star on top.
The star was so heavy it bent the top of the tree down a full foot. It was a comical disaster. Karis was bummed. Jesse, being a man, said to step aside, and that *HE* would fix it, because clearly I was doing it wrong. So he put the star on, and once again it drooped down the tree. That's when *I* said step aside. I had recently seen a shirt online that resonated with me, so I quoted it. "Stand back. I'm going to science the shit out of this." I mounted the star to a sturdy stick and crammed the stick down the base of the tree, attaching it to the trunk with the Velcro straps I use to organize the lights. A few artfully arranged branches later and BAM! we've got ourselves a perfectly straight tree with a big-ass star on top.
Jesse has been traveling for business weekly. He's only been home on weekends for the past three weeks. When he came home last week our family had grown by a couple of fish. Then it snowballed to include a couple more fish, two frogs and a stowaway snail. This is how it all went down:
We went to the pet store to buy the dog a sweater because she shivers dramatically at night. (She hated every single sweater BTW, so we ended up not getting her one.) While perusing the aisles I came across a hydroponic fish tank that I had wanted to buy Karis for her birthday last year. I hate having to clean tanks and poop water etc, so I had always refused to do the fish thing, but I was totally down to teach the kids about hydroponics. YAY SCIENCE! Except the hydroponic tank only allowed for one fish and Karis and Brecken started bitching about which fish to choose. Karis had bonded with a yellow Beta and told me it had spoken to her heart. (Don't laugh. I once impulse bought a rat for the same reason. It can happen.) Brecken wanted a blue Beta. I wasn't about to buy TWO hydroponic tanks, so I decided they could each get a Beta (notoriously easy, low-maintenance fish) and I bought a little half gallon tank with a divider.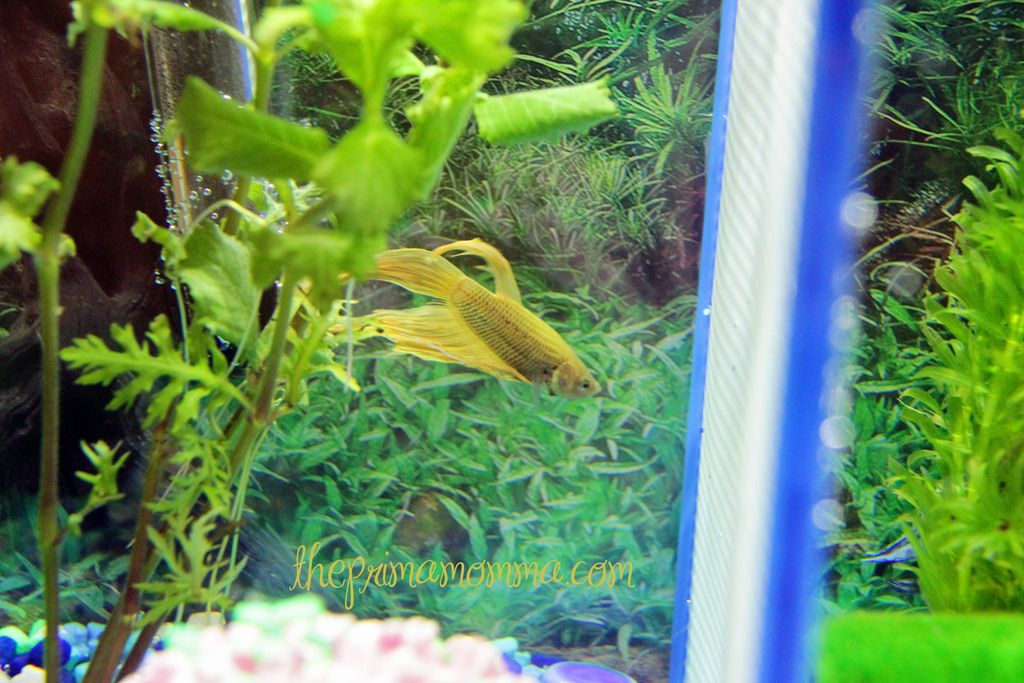 When we got home I realized how small it was. It was like putting them in fish jail. So the next day I went back and bought each Beta a two gallon tank. When the kids saw the new tanks they said the Beta looked lonely, so we got Karis two zebra fish, and Brecken two dwarf frogs. The lady warned me that frogs need a warm temperature, so I threw a thermometer in there as well, hoping it would stay in the green area.
Two days later I couldn't in good conscience keep the frozen frogs in an ice world, so I went back to the store and bought a full on ten gallon aquarium kit with a heater and filter and all that crap. We would now need to find an official place in our house next to an outlet to house our fish tank. In an effort to avoid having to buy TWO ten gallon tanks, I Youtubed how to MacGyver a divider, and I divided that tank up like a pro. (Take THAT everyone that scoffs at my happening to have plastic grids on hand for sewing projects. You never know when they'll come in handy.)
So that's how we ended up with a ten gallon aquarium. The kids will probably be completely over it in another day or two. I have lost hours staring at it though. It sucks up more of my time than Facebook. They say it's good for the blood pressure, so I guess that's a positive. Despite my valiant efforts of securing a proper heater and ideal environment, AND hand feeding the little bastard, we lost one of the frogs yesterday. (Lost as in dead, not lost as in he jumped out and ran away.) RIP Jay. You are pretty much already forgotten by everyone except me. I feel sad that you died on my watch.