Hello, Internet! I come to you today a much less weary person. After enduring over TWO weeks of child vomit and fevers (Seren caught Brecken's bug too) we are finally a germ-free house. Well, okay, we're not germ-free, but at least we no longer smell like a vomitorium, so that's a win.
Quick off-topic side story: For reasons we need not get into right now, I lack the ability to smell shit. I really have to get up close to it and make an effort to experience the aroma or I just don't notice it. That means my babies would sometimes go long periods of time with poop in their pants and I'd be none the wiser. Well, last week when Seren was in the middle of her diarrhea-vomit-fever extravaganza I took her to school to pick up the kids. While en route she must have loaded her diaper. I didn't notice. A mom friend saw us waiting for the kids and came over to be friendly. She made conversation with us for a few minutes, then awkwardly walked a bit away to stand in the hot sun by the door. A few times she started to come back over to us in the shade, then she would remember something and stay in the sun. Weird. (Except, it wasn't.) Unbeknownst to me and my nose, Seren smelled like a broken sewer pipe. (Why didn't mom friend just tell us?) The kids came out and very dramatically informed me that Seren was loaded. Anyway, now the other moms at school have one more reason to avoid us at pick up. This concludes my off-topic side story.
Today's post is actually not about disgusting bodily functions. Or at least it wasn't until I couldn't help telling you the completely irrelevant side story just now. Today's post is about headboards! Yay! (Just pretend you're as enthusiastic about headboards as I am.)
Jesse and I have recently suffered from some #FirstWorldProblem bed drama. We've had a king-sized Sleep Number bed for over four years. It's one of those fancy-schmancy beds that moves and massages and dances and promises you'll have good dreams. In my experience, Sleep Number beds are just glorified air mattresses. I hate air mattresses. I've had back problems for the last three-and-a-half years. The first few months of back problems I just assumed were from working out or something. Then I was pregnant, so I assumed that's why my back hurt. Then I was carrying around a baby-shaped bowling ball, so I assumed that's why my back hurt… Finally I came to the realization that my bed sucked.
Jesse wasn't experiencing any back problems, so he thought I was crazy. I continued to insist that The Devil had taken up residence in my side of the bed. As a test, we decided to switch sides for a few weeks to see if that made a difference. After a few days I started feeling a little better, and then Jesse started having neck problems. He demanded we switch back immediately. *sad trombone*
Shortly thereafter I went to visit my mom for a few days. One night, Jesse rolled onto my side of the bed and woke up with neck problems again. He freaked out, finally agreeing that The Devil must sleep within my air mattress. He barricaded my side of the bed with pillows until I came back so as not to risk accidentally rolling over into the Devil Zone again.
Around this same time Jesse's doctor was scaring him about all the horrifying materials used in mattress production these days – petroleum-based products, chemicals, Kardashian hair – there really are NO laws against poisons you're allowed to stuff in a mattress as long as it's fire-retardant. He let that information seep into his subconscious brain and became obsessed with researching healthier mattress options. He landed on My Essentia. My Essentia mattresses are the only natural memory foam mattresses in existence made with no petroleum-based products. They're made out of tree sap and unicorn fur. They cost a bajilliondy dollars. They are also heavier than three unconscious Cosby victims rolled in an oriental rug. I know this because we bought one.
I sold our Devil Bed on Craigslist to a very nice man who wanted it in his vacation house in Hawaii. He was thrilled I was selling it because it was the exact model he had at home, and his wife needed to sleep in an elevated position to help her breathe. He was totally okay with it being possessed. I'm hoping the long sea voyage to Hawaii helped exorcize the demons out of it for his wife's sake.
Not having a bed anymore meant I got to procure a platform bed for our new magical mattress. (Maybe it's so expensive and heavy because it's core is solid gold?) I found a nice chap on good ol' Craigslist who agreed to make me a platform and NOT murder me. We both agreed to those terms. I asked him to also make me a headboard based on a picture I sent him. He did a pretty good job considering my vague request.
Here is what the headboard looked like when it arrived:
(My assistant probably DIDN'T smell bad at this time.)
 After a heated debate as to what color to paint the new headboard, we settled on Annie Sloan's Provence. I glued some frames to the front for some visual stimulation, and slapped two coats on that bad boy.

Next I waxed it with dark wax to give it a nice patina. (Mere words cannot express how tedious a job it was to wax the intricate details of the frames. It would take a pretentious interpretive dance choreographed by Kanye West and performed by Anne Hathaway in order to fully illustrate how much of a pain in the ass it was.)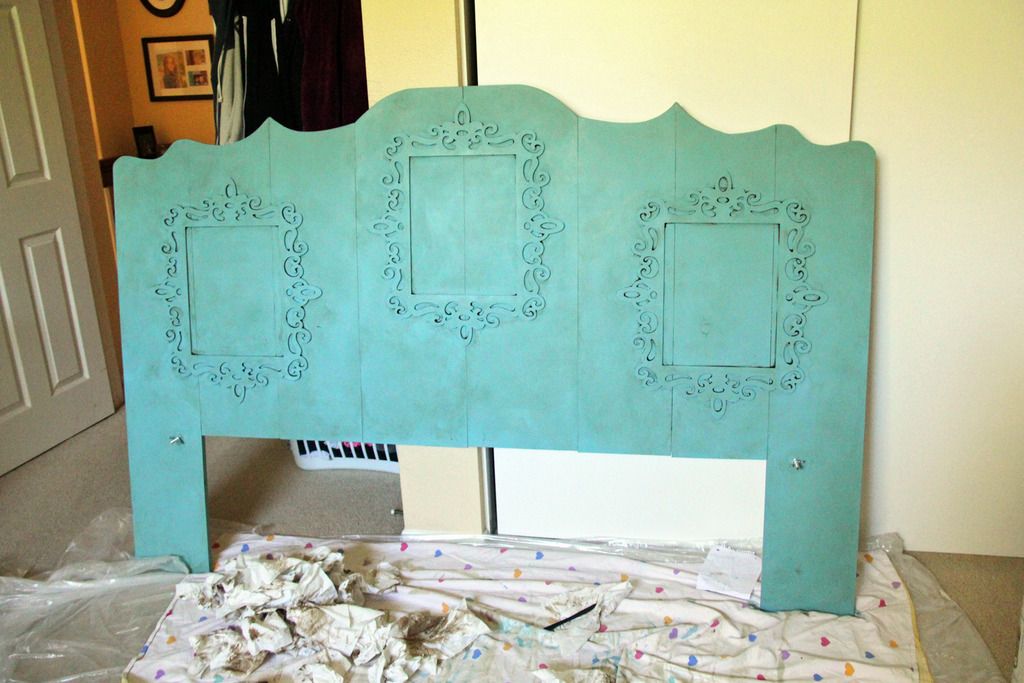 And here it is attached to the bed frame. I wish I had made it about six inches taller, but Jesse was already freaking out about the size and referring to it as a Game of Thrones bed. (Now he agrees though – he wishes it was six inches taller too. The man should just trust me and let me do whatever I want. Right?)

Speaking of letting me do whatever I want, you can see the beginnings of my Moroccan wedding blanket in this pic! Don't worry, I'll be sure to give it its very own post. You guys have not seen the last of my Moroccan wedding blanket! Also, please ignore the flower painting. Its days are numbered.