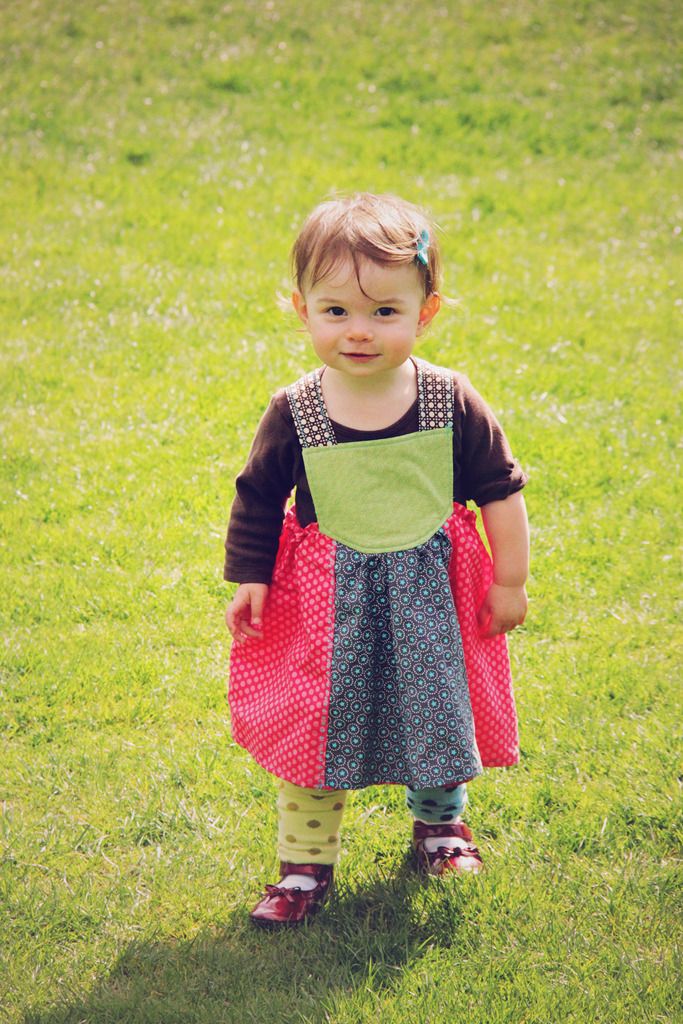 Ahhhhh, where do I begin? I have an extremely messy house, a disgruntled, febrile toddler, and two older kids that are dressed in Halloween costumes for reasons unknown. I will now attempt to piece together a record of our trip to Washington for Easter. It promises to be scattered and rely heavily on pictures. This will be like the CliffsNotes of the post I would like to write.
Huns has moved to Bellevue Washington, which is right next to Seattle. Going to her house is like stepping into a fairytale because Washington is a land of lush vegetation. Apparently Washington has something called "rain" which is water that falls from the sky. I wouldn't believe it if I hadn't seen it with my own eyes – water does indeed fall from the sky there. Wouldn't it be cool if "rain" happened in southern California?
Before I go further, shout out to Liz, the happiest airport shuttle operator I have ever met in my life. She single-handedly made my entire day of travel seem like a happy memory.
The first afternoon was spent walking through beautiful trails surrounding a blueberry farm nestled up against Huns's new neighborhood. The next day we went to a cute little farm so the kids could point at chickens and pigs and climb around on rusty old farm equipment. I found a cabin that was called Fraser Cabin and my obsession with all things Outlander forced me to take several pictures of it. Yes, it has nothing at all to do with the fictional Frasers in my beloved books, but in attempting to take a reflection selfie in the window I discovered I have started resembling an old man. Have you ever come across a picture of yourself and thought, "Sweet Jesus, I should burn that outfit immediately!"? I have. Several times. This was one of those times.
I clearly need to rethink my hat choices.
Friday morning I packed up the rental car and headed to Olympia to see my step-mom, Omi. She is an energetic adventurer that hates to sit still. We couldn't make it hiking or to Mount St. Helen this time around, but she took us to a beach, and to a children's museum that was exponentially more awesome than the Discovery Cube. We all had a blast! (We also froze our southern Californian butts off! At the farmer's market we hopped from space heater to space heater to huddle for warmth.)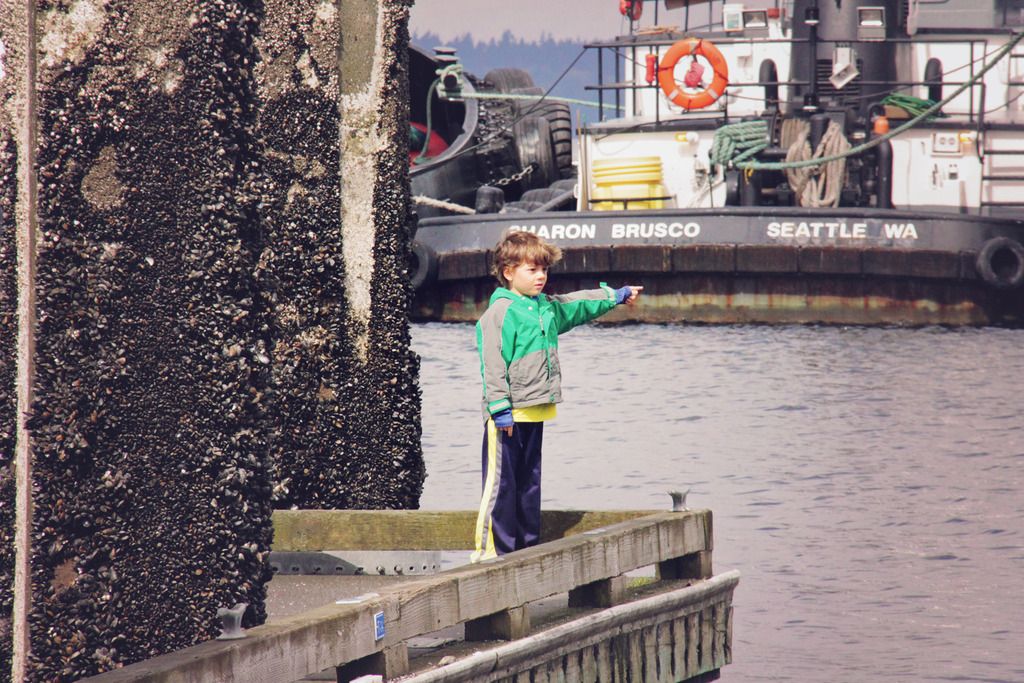 Brecken asking about anchors. There were jellyfish in the water we could see from the dock.
Omi doesn't take kindly to age discrimination, and we saw no reason we couldn't also climb up the kid passage to the second floor (We were very careful of the littles surrounding us).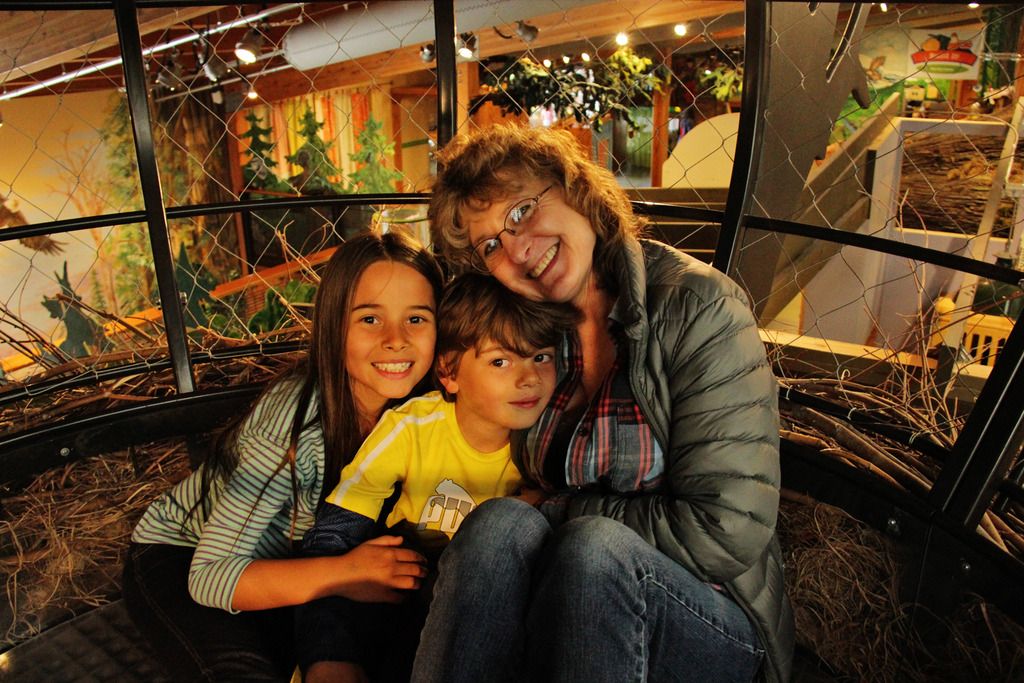 Up in the eagle nest. To get up there required contorting our bodies through tunnels in ways a hamster could only dream about.
Boat race!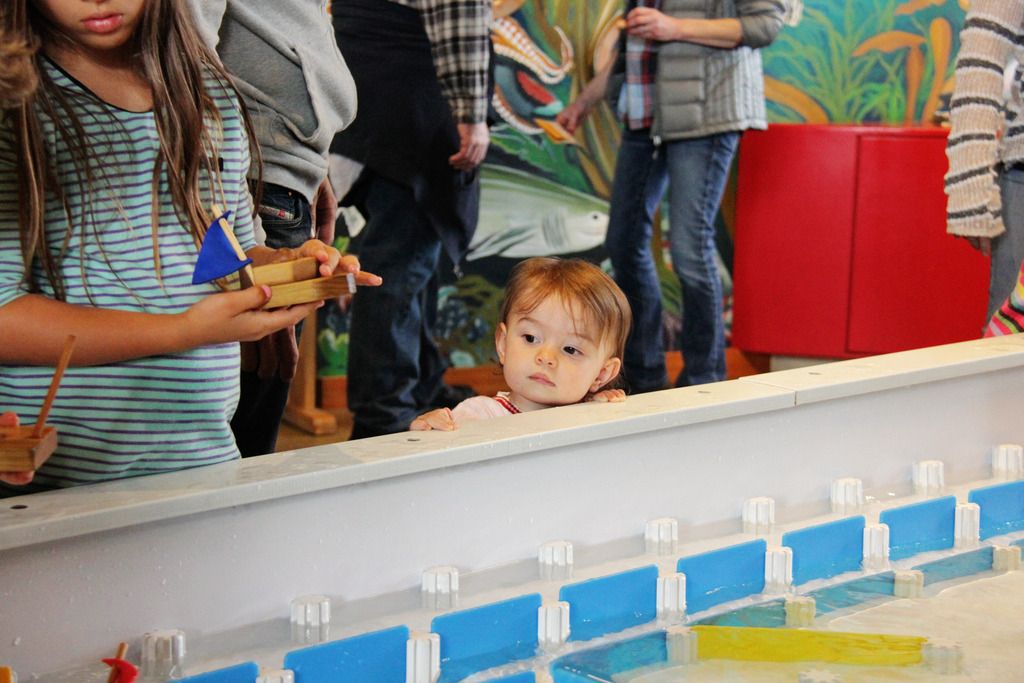 Giant Lite Brite wall!
Giant I-don't-know-what-it's-called wall!
After the museum we went to sushi. Omi's beau, Greg, is a sushi loving gent, and the restaurant treated us like family because of Greg's rock star status. Everything tasted delicious. Even Seren enjoyed miso in her bottle.
Back at Omi's, the kids got to hang out with my brother, Tanner. They thought he was the coolest person to have ever lived. He has cool video games which he is very good at playing, he has elaborate Lego creations and trophies on shelves in his room, he has a waterbed – the whole waterbed thing totally blew their minds – and he gets to stay up as late as he wants.
I love that you can see Jesse in the background being a work-a-holic.
Omi has a pet pig. I've mentioned Baby before. Seren was NOT a fan. When Baby walked near, Seren would climb up Jesse's leg and cower against his chest saying, "Nooooo piggy." I can't blame her. Baby can be rather intimidating with his tusks and red eyes. (I'm kidding – despite never getting a picture of Baby without red eye glare, he doesn't have glowing, evil eyes. Still, imagine this coming at you when you're only thirty-three inches tall.)
Jesse, Seren and I slept in Omi's room, and Omi camped out in the living room with the kids.
The next morning we met my dad and sister for a pancake breakfast. It was my dad's birthday, and he nearly had a heart attack when the staff started singing to him. (Note to self: nix the singing next time.)
A work emergency required us to leave early, so we headed back to Huns's place. (I realize I STILL haven't told you guys about Jesse's new company. It's all I can do to keep up with this blog in my half-assed way right now, and I want to devote plenty of time to telling you about it. I promise to make it a priority, right after I rant about a onesie I saw today…)
 Easter morning we dressed the baby girls in matching pajamas because, come on, how cute are they?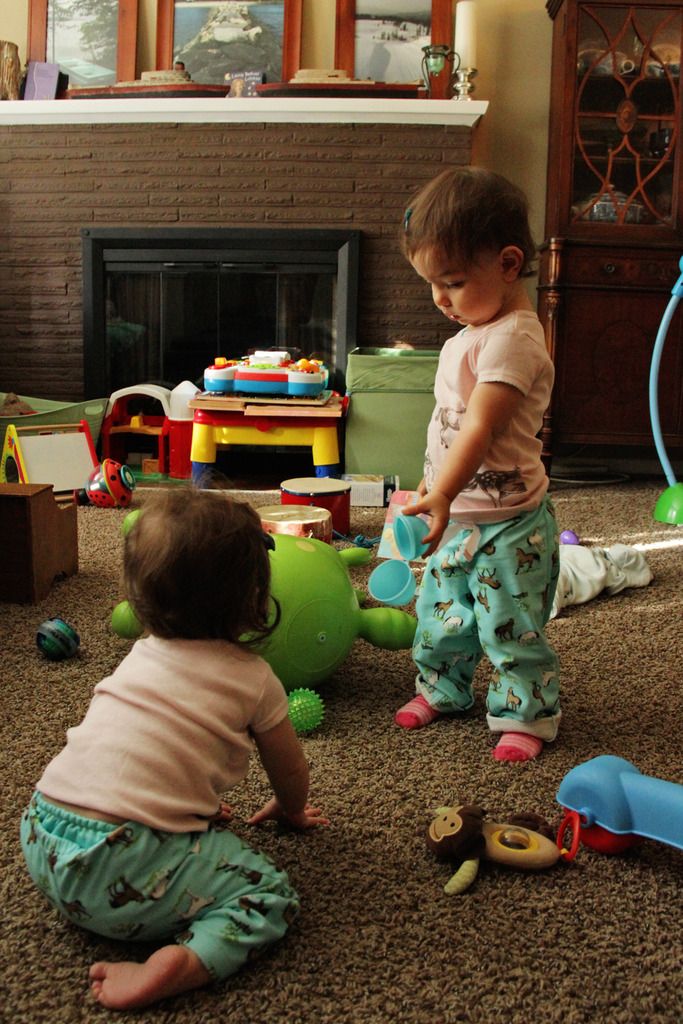 Seren giving Chloe an egg.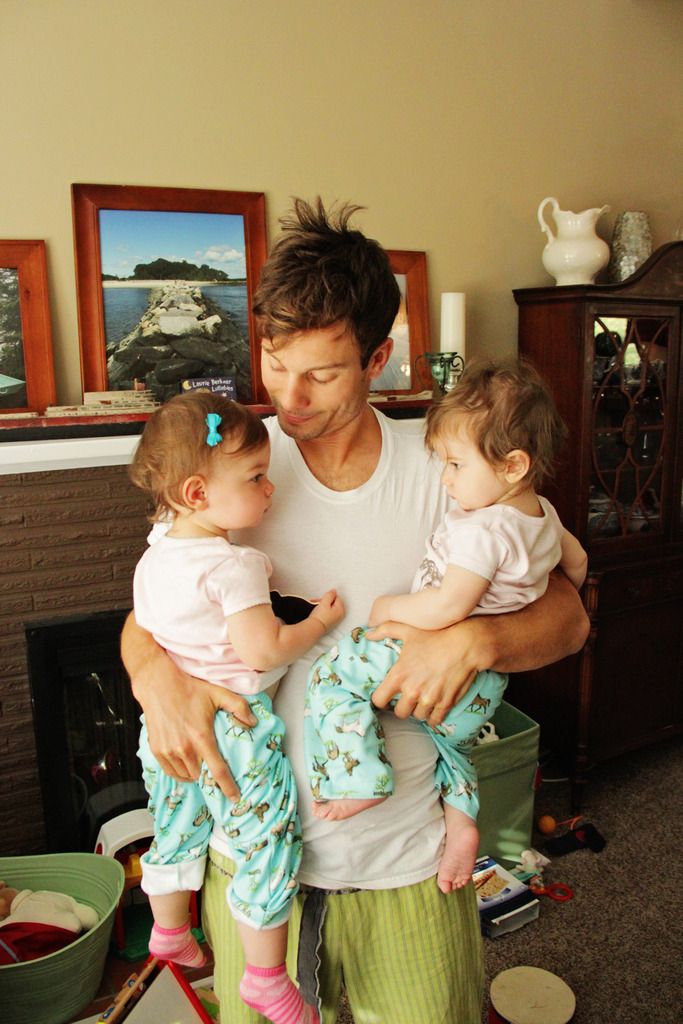 Jesse surrounded by pretty girls – as usual.
Seren was possessive of Jesse, and every time he held Chloe she would demand he hold her as well.
The egg hunt was your standard finding of eggs.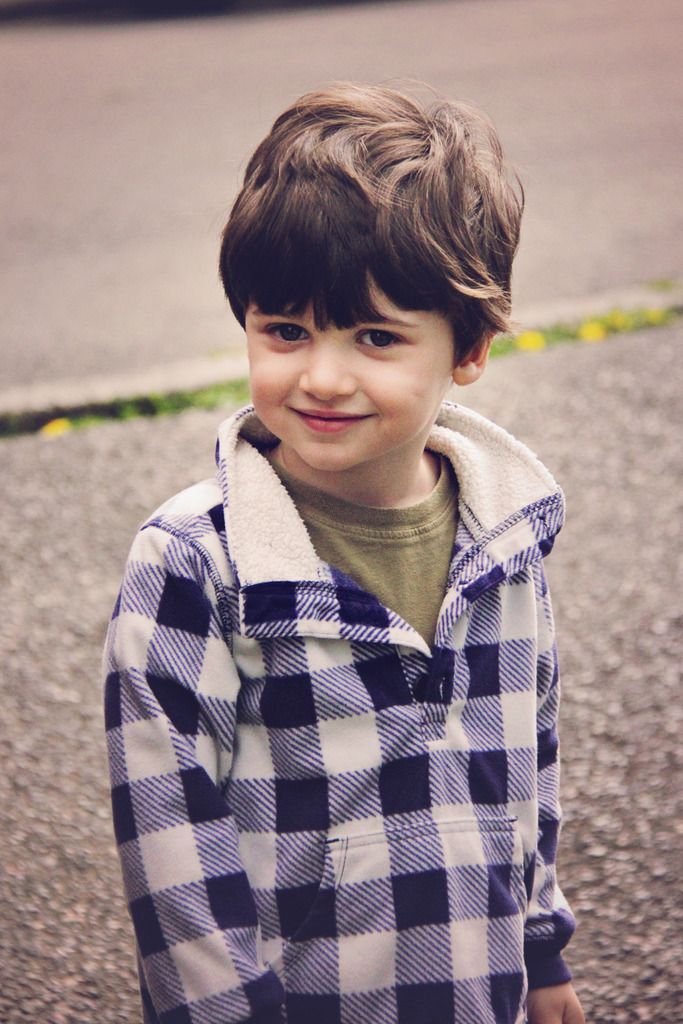 Afterward Mugga, Dani, Huns, Jesse, myself and the kids minus Nathan (he was napping) went to Kirkland and had lunch at a bar, because why not bring two strollers into a bar and block the door to the bathroom?
Bellies full of good food, we wandered to the shore of Lake Washington and let the kids run around. I snapped a few pics of Seren wearing my latest creation. I adore this little dress. I used a pattern this time, instead of just eyeballing it, and the result is a beautifully finished dress both inside and out. I love it! Seren loves it too.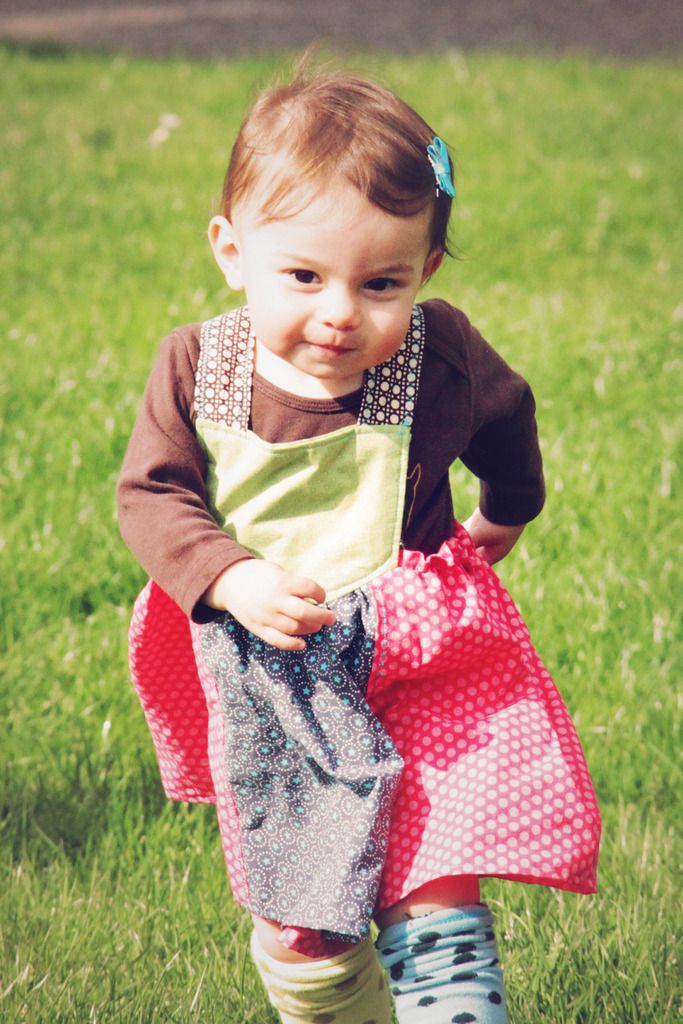 The next morning at the crack of before dawn, we headed back to the airport. We got bumped to first-class which has officially ruined Karis for coach forever. Brecken and Karis sat two rows ahead of us and were polite, well behaved little air travelers. I was so proud of them. We were home by lunch and had plenty of time to put out the work emergency fire.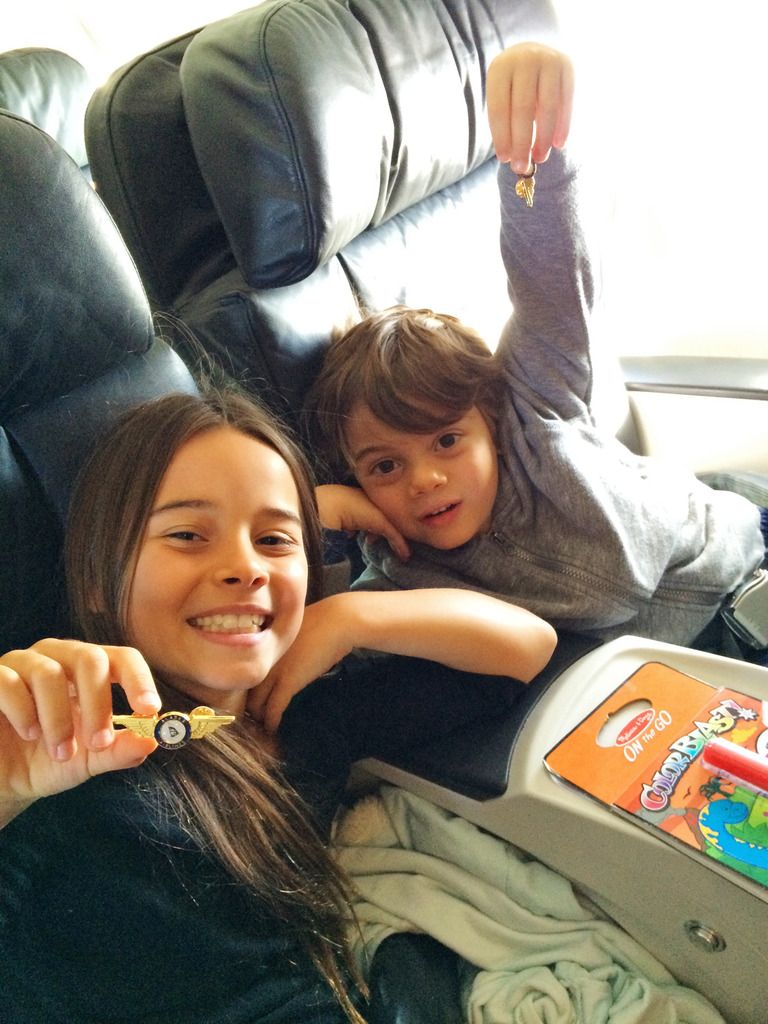 That was Monday. This is Thursday night (I started this post HOURS ago, and got waylaid by a baby with a 103º temp among other things) and I wont publish this until tomorrow morning (happy Friday, Internet!) I am freakin' exhausted. I got acupuncture yesterday because apparently my liver and kidney chi is blocked? *shrug* I dunno, I just know I got to relax in a quiet, dark room for a half hour with no one bugging me. The needles were worth it!
Okay, now you're caught up on our spring break adventures. School starts again on Monday. I'm looking forward to the return of schedules. I love hearing the kids playing and giggling together all day long, but we can all benefit from a little structure around here.
I'm going to bed now. Who am I kidding? It's 10:13PM right now, and I wont be hitting the pillow for at least another two hours. That's how I roll.