Karis has an ancestry report due for school. My children are very fortunate in that their grandmother, Mugga, has kept many family heirlooms, photographs, furniture, and even linens.
Part of the report is making a traditional family recipe. She decided she wanted to make passatelli. One of her fondest memories is of making passatelli with Mugga the Christmas she was four years old. It is a hands-on recipe requiring the use of a special tool that squishes bread crumb dough through holes to make them noodle-like. I am up for the challenge, so I asked Mugga for the recipe. Mugga was thrilled at the prospect of this tradition being handed down – even if the person doing the teaching was an inept vegetarian such as myself. She happily mailed us a passatelli extruder (I have no idea what it's called. "Extruder" sounded better than "thing".) and a pdf of the family recipe.
Literally. THE family recipe.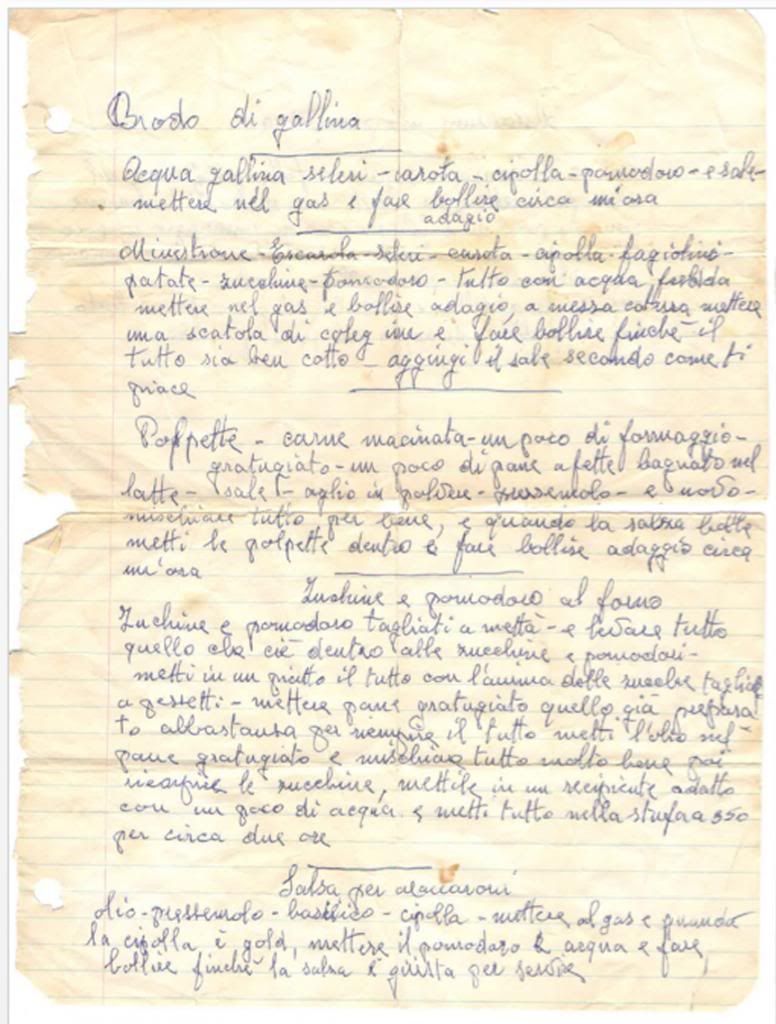 How cool is that? That is the actual notebook paper from her mother's recipe book, written in her hand. Very awesome. Unfortunately, also completely useless to me, because I no speaka the Italiano.
I have an English version written in Mugga's hand, which my grandchildren will no doubt find very charming, so I will keep it, but damn if I can decipher it. I think I'll just wing it. Most of the ingredients don't have measurements anyway. Do you think I'll be breaking any laws if I substitute vegetable broth for the chicken broth? (Three generations of Italian grandmothers just facepalmed in their graves.)