Karis goes to gymnastics every Friday with three of her school friends. We mothers take turns carpooling, so I only have to take them once a month.
Well, each of the other moms usually do something fun with the girls after class, and I have been slowly cultivating the reputation of being the "boring mom". I haven't actually heard any of them call me that out loud, but seven-year-olds aren't very subtle.
I decided to step up my game a bit.
Last Friday, I brought the girls home from gymnastics and had these waiting for them: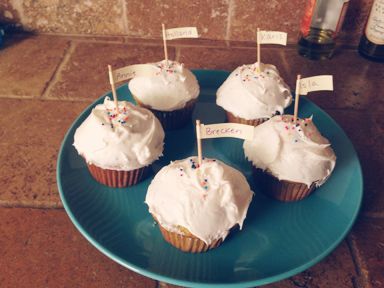 Hidden inside each cupcake was a personalized game piece with their face on it. After they ate their cupcakes I lead them into the dining room and they each chose a poster page.
I had pre-drawn  a path that meandered through all four pages.
I instructed the girls to personalize their page by drawing their game piece a house, and I gave them each two stickers to put on spaces on their page.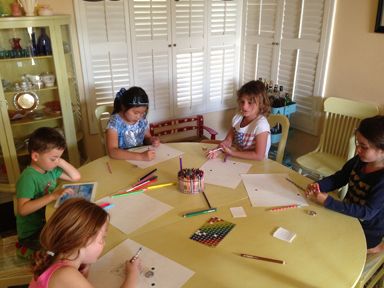 After they had decorated their pages to their hearts' content, I taped all the pieces together and explained the game. If they landed on a stickered space, they had to pick a card. The cards had instructions like "go to so-and-so's house" or "lose a turn"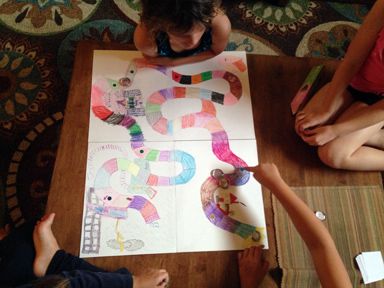 They loved the project. They played one round of the game, then decided it would be more fun to just play with their game pieces on the board like a two dementional doll house.
Eventually everything evolved into a standard rambunctious free-for-all where the entire soundtrack to Frozen was sung many times over, and pizza was shoveled down throats. It took three adults to round them up and force them to go home. I'd say that's a good sign of a successful, un-boring playdate.