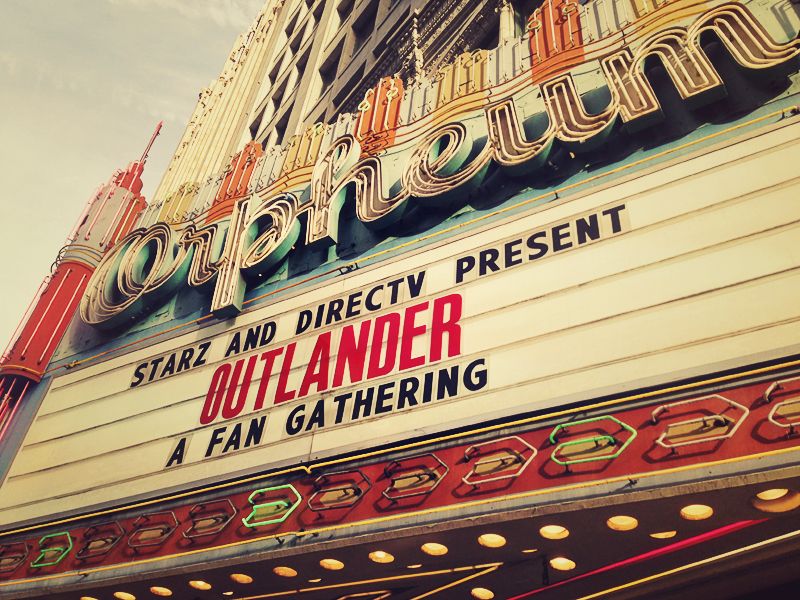 You'll never guess what I did on Saturday, Internet. I played the part of a fangirl! To know me is to know of my love for the writings of Diana Gabaldon. I have a long history of being obsessed with her work. Naturally, when I heard she would be in LA promoting the upcoming Starz series being made out of her book, Outlander, I couldn't not go.
I am not alone in my Diana worshiping, which meant I would have to brave crowds in order to see her.
Ugh. Crowds.
Crowds like the crowds I had to brave are way too much like parade crowds, you guys, and we all know how much I detest parades and their resulting crowds. In order to ensure my seat at the event I had to leave waaaay before it started, drive to LA, and wait in a long ass line surrounded by fanatics that make me look only mildly interested in Diana. I normally wouldn't mind any of this, but I have a twelve week old bebe. Having a twelve week old baby isn't that big of a deal when you have a husband willing to coddle her and give her a bottle while you're away. It's the boobs that come with the twelve week old baby that had me concerned. You see, nobody gave my boobs the memo that I would be spending eight straight hours away from my little milk enthusiast. Do you have any idea how much milk I can produce in eight hours? Plenty.
We were told we wouldn't be allowed to line up until noon. I am a rule follower. If no one follows the rules, we will be unable to have order and civility in our society. So, you're welcome, Internet, for me doing my part to avoid encouraging a Lord of the Flies existence. You see, being a rule follower, I arrived at 11:59. I was the five hundred and first person in line. That means there were five hundred rule breakers in front of me that were incapable of understanding very basic instructions or unwilling to follow them because the rules apply to every one BUT the five hundred of them. How lucky I was to be surrounded by people whose passion and excitement for the event were so much more important than my own, or that of the fourteen hundred ninety eight people behind me.
I had come prepared with a folding chair, snacks, and some crochet. The line wrapped all the way around the block, and when I eventually found the end I set up my chair in such a way that a street sign just managed to grant my face shade if I sat up straight. Don't be too envious of my choice position, Internet, because the cost of the small patch of shade was that my spot also happened to be next to a (thankfully) dried pile of feces. It looked to be of canine origins. Sadly, I am no stranger to bum shit, and I can confidently say that this feces was not human bum shit. Probably.
At exactly two hours into things my milk came in like a freight train. I sat there clutching myself as if I were freezing, even though it was a warm, sunny day. After the first wave passed I ventured a call to Jesse to see if the baby was taking the bottle. She wasn't. She has never given me a problem the few times I've offered her a bottle, so this was frustrating and distressing news. Talking about it also made even more milk spring forth. What followed was an hour of me fretting over my hungry baby and feeling like a monster for leaving her. I would text Jesse every twenty minutes to see if she was awake and/or taking the bottle. Finally she took the bottle! That made me very happy, and made the rest of the wait much more bearable.
After the staff checked everyone in we were free to leave for a while, and when I lined up the second time I was next to two nice ladies I had been with before, but now also a handful of more nice ladies that I didn't remember seeing before. I struck up a conversation with them and we discussed things like organic food and exterminators. (I know, you all wish you could have been a part of that conversation. I really know how to keep things interesting.) They were all mothers with grown children, so they understood my milk situation. When we filed into the theater – which is absolutely beautiful – I sat with my new mom friends, relieved that my immediate seat neighbors wouldn't be too horrified by my first order of business. What was my first order of business? To express myself. Literally.
Yes, Internet, there I was, in the fifth or sixth row at the beautiful Orpheum theater, discreetly pumping milk in an effort to avoid clogged ducts or mastitis. I am a very glamorous woman.
The panel discussion was a joy to behold. Diana is witty and smart – which we already knew, having read her work, but it's nice when your idol turns out to be as wonderful in person as they were in your imagination.
It was Diana's birthday, so we sang to her and they presented her with a cake. I didn't stay for the tea service afterward, eager to be reunited with my bairn. All in all it was a wonderful experience, and I'm glad I went.
Upon leaving I was given a "Pocket Jamie". He stands about eight inches tall. I have to do something with him, you guys. I can't very well let a perfectly good Pocket Jamie go to waste. I am open to suggestions!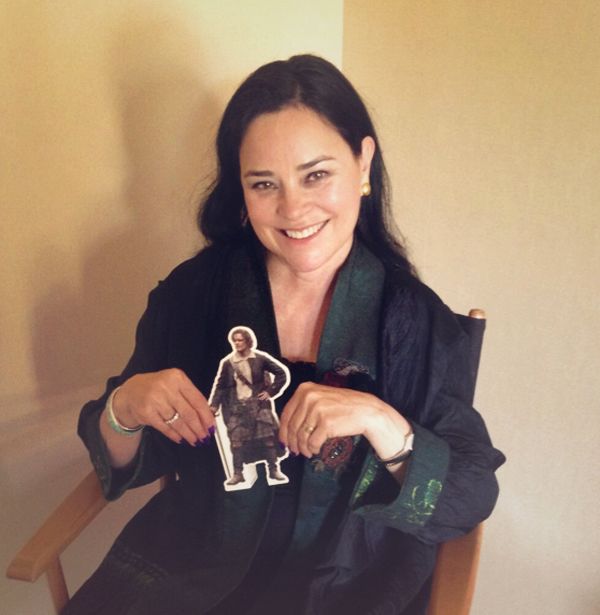 Herself holding a Pocket Jamie.
Here is a link to the panel. And here is the trailer for the show!