Words cannot express the feeling of relief I felt when the baby was finally out. I was expecting an epic wave of endorphins, or to be overcome with emotion and cry, but neither happened. I just felt relief. I had done it! My baby was finally here.
My birth team transferred me and the baby from our illustrious position on the floor to the bed, where I delivered the placenta. One of the many things I love about a non-hospital birth is that they didn't rush my baby away down an assembly line of cord cuts, ointments and baths. Instead, they packaged the placenta in a tidy bag and nestled it by my side. Then they helped me out of my sports bra for some skin to skin bonding, made sure we were comfortable and that the baby had a good latch for nursing, then they left us alone for some quiet family time.
Toward the end of our quiet time, midwife Nancy came in with a look of regret on her face. She apologized for leaving us before we were ready to go home, but her young son had broken his arm two hours previously and she needed to go to the hospital. We assured her we totally understood, and I was thoroughly honored that she had stayed with me during my most challenging last hours of labor until delivery, even knowing her son had been hurt. (He was safe with his daddy, but we all know how important a mommy's kiss is in these situations!)
Doula Amber – who took many of these wonderful photos – went and got us burritos, which I promptly scarfed down. We made a few phone calls to family, and then it was time to get cleaned up! Jesse got to cut the cord – finally. He never got the chance with our other two children because of the cord-three-times-around-the-neck thing. Next it was his turn for some skin to skin love while I got checked for tears.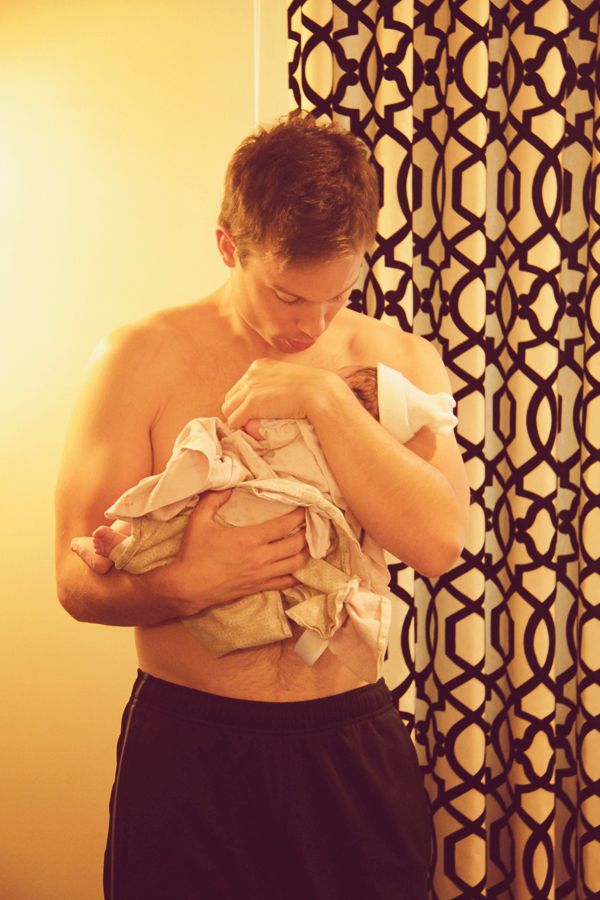 We have reached the part of our story where I can't resist telling a private (literally!) family joke. My sister has the face of an angel, and the mouth of an angry, drunk truck driver with road rage. After the birth of her daughter she required sutures, and she was convinced they wouldn't heal perfectly. In a hormone induced rage she was ranting about how they "fucked up her shit." Her choice of pet name for her lady bits always struck me as funny.
I regaled midwife Andy with this tale as she gave me two sutures. She decided against doing a third stitch, and she had lidocaine left over in the syringe. She looked at me with a totally straight face and said, "I don't want to waste this, so I'm just going to put it on your shit." Oh, Internet, I laughed so hard. I love a midwife with a sense of humor. There's nothing like a good laugh after having one's "shit" sutured.
My post-delivery washing was very reminiscent of the scene in the Wizard of Oz when all the different people are primping and preening Dorothy and friends. I was washed, and dried, and dressed in the official uniform of  post-delivery motherhood; the stretchy disposable underpants filled with frozen witch hazel pads!
Then it was baby's turn for the Wizard of Oz treatment.
This whole time I had been marveling at how tiny she was. Surely this was my smallest baby! We all made our guesses as to how much she weighed. Most of the team guessed in the mid to high seven pound range. Andy thought at least eight. I played Price is Right rules and guessed six pounds, fifteen ounces, because she seemed under seven pounds to me.
Well, guess what. We were all wrong. Andy put her in the scale and her eyes got big with disbelief as she read the numbers.
Eight pounds, seven ounces! My biggest baby by a full pound.
She had four stork bites. I don't know what causes them, but two of them look pretty cool – like alien abduction marks on the back of her neck and just above her butt.
When Andy put the diaper on, she poured olive oil all over the baby's little bits and pieces and said, "I baptize you Italian!" That was a very cute moment that stands out in my mind. Also, pro-tip: Olive oil works way better than petroleum jelly at keeping baby's skin smooth and easy to clean.
She was so big she barely fit into the outfit I had brought in which to bring her home. Even the rainbow hat I crocheted her was barely big enough, but we made it work.
Jesse took this last picture. I have a similar picture from each of my other two babies. He really captured that moment, that feeling, of mission accomplished. It's a proud mama warrior moment. A "look what I did!" moment. A Goddess moment.
So, without further ado, allow me to introduce you to my youngest daughter, Seren Grey Phillips Merrill.