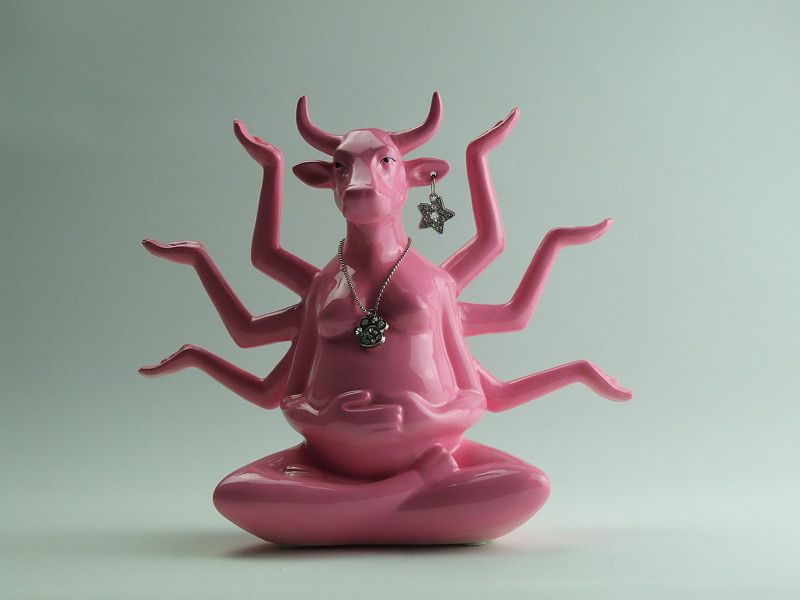 Well, Internet, I'm not pregnant anymore! What was once on the inside, is now very much on the outside.
Though I had many false starts, and a bout of pre-labor lasting thirty hours, which eventually petered out, the actual labor and birth took twelve hours.
Thursday the 17th I started getting regular contractions, but they were mild, and frankly, my uterus had been teasing me with the possibility of excitement for weeks, so I was disinclined to get too hopeful. These contractions continued throughout the night, then stalled just in time for me to go to my midwife appointment Friday morning. My lovely midwife, Nancy, checked me, and I was dilated to three and a half centimeters. I went home, hoping the full moon that night would kick things into high gear.
Last official belly pic, 40 weeks
Everything you read online says there is no scientific proof that the phase of the moon has any effect on childbirth rates. That's all well and good, but I remember all too well my days of living on a cattle ranch, and how every time we had a cow ready to calve, they would have their baby on a full moon. We would wake up the next morning to a bunch of new baby calves. It was like an amniotic soaked Christmas morning.
Well, "Moo." And you can quote me on that. I've always claimed to be part cow, thanks to my ridiculously productive mammaries. Now I have one more thing in common with our bovine brethren.
I was awakened by contractions at three A.M., but tried to keep sleeping. Finally, at four I decided to start timing them, so I opened my trusty contraction timing app and sat in my rocking chair by the window. At five I texted my doula, Amber, to let her know things were happening, but my contractions were mild, and six minutes apart, so I told her not to come over, and that I would let her know when I needed her.
I went back to bed and tried to sleep, but at five fifty eight I felt two distinct pops and a gush, and knew my water had broken. I was thrilled, because this meant things were official. No turning back! I made note of the fact that my amniotic fluid was clean, and texted my doula to come on over. Then I paged my midwife. She wanted me to lay on my side until my contractions became closer together, but my body wasn't having any of that nonsense.
I woke Jesse up to tell him my water had broken. He jokingly asked, "Couldn't you have waited another hour or two?"
Karis wandered into our room at six thirty having had a nightmare that she was eaten by a wolf. She immediately began duties as a mini doula. Doula Amber arrived at seven. I made arrangements for the sitter to come for Karis and Brecken, and by eight A.M., after I had become well acquainted with every handle and counter surface in my house that was the ideal height for squatting in front of, we left for the birthing center.
I had three contractions on the way to the birthing center. It sucked being stuck in the car and not being able to squat, but Jesse made me laugh, making a joke about what a cliché moment it was, and how he felt he should be fumbling around like a nervous Paul Rudd.
This whole time I was marveling at how mild my contractions were, and dreading how awful it would be when it came time for transition. (Transition is dilating from seven to ten centimeters. They say it's one of the most challenging parts of labor.)
When we got to the birthing center and my midwife checked me she said, "You've been busy since yesterday. You're fully dilated with just a small lip of cervix left." WHAT?  I was completely shocked. "Are you kidding me?" I asked. "My contractions are so mild!" My midwife reminded me that my frame of references was Pitocin contractions, so naturally they would seem mild compared to what I remembered.
Needless to say, I was pumped. We put on some music, ("Kansas City Shuffle" for those of you wondering) and waited for the baby to drop so I could begin pushing. I was elated at how smoothly everything was going.
And then the next six hours happened.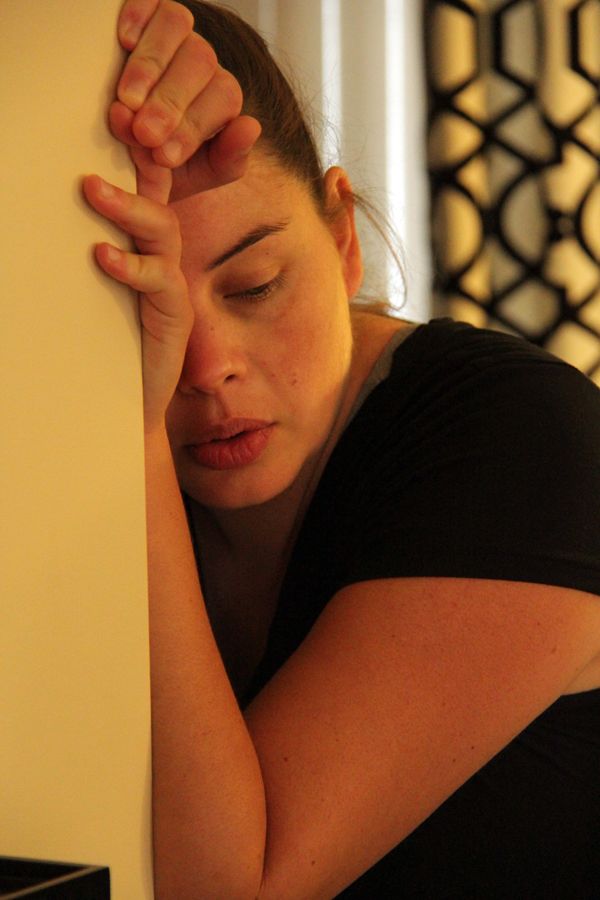 Yeah, SIX hours. She wouldn't drop. For the first few hours I figured it was normal, and that she would drop any minute. I kept noting how mild my contractions were, and that, coupled with the baby not dropping started us thinking maybe my contractions weren't strong enough. We decided to put me in a binder. It's like a medieval torture girdle, and its sole function is to push the baby down. I hated it!
Midwife Nancy checked me to make sure my cervical lip had disappeared. She felt a bit of swelling on the baby's head, which can be normal. Otherwise, I seemed good to go.
More time went by, and she still wasn't dropping. I was getting frustrated. They hooked me up to a breast pump to help strengthen my contractions, and we got over an ounce of colostrum in twenty minutes. (I only mention this for Huns's benefit. She loves my milk production stories.) My contractions became even more powerful, BUT SHE STILL WOULDN'T DROP.
I was exhausted. I was losing hope and motivation. I was fantasizing about a hospital birth, because I just wanted it to be over.
Jesse said he noticed when I gave up. He got nervous because he said it was like watching an athlete lose confidence, and once that happens they lose the game. "Come on!" He said, "Put your game face on!"
I believe my answer to his pep talk was something along the lines of "Fuck my game face." But I must be mistaken, because I'm much too classy a lady to be so base.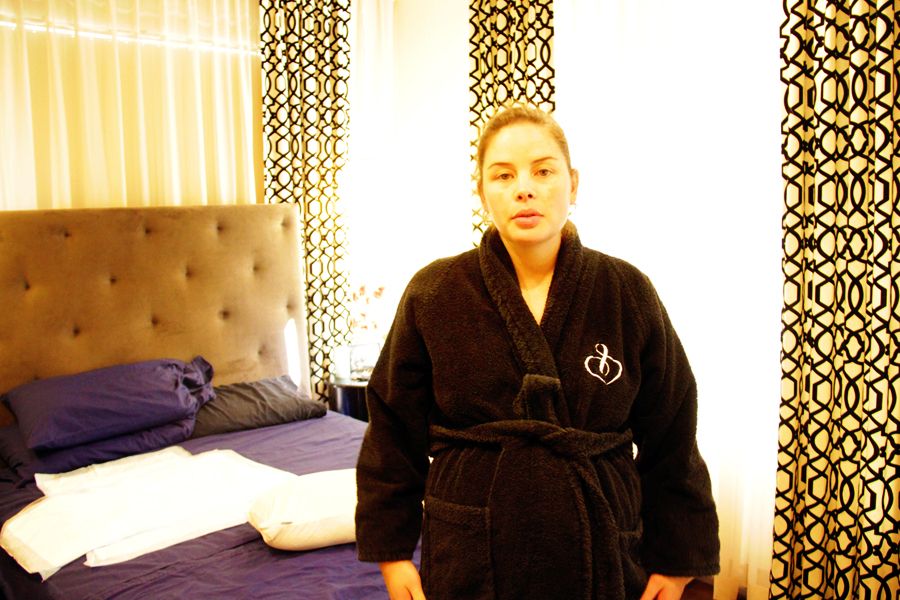 Finally midwife Andy wanted to check me. She wanted to map the baby's head to see if she was in the correct position. In order to do this, I had to be on my hands and knees. I had a contraction while I was being checked, and it was too much for me to stay still, so I jerked away and scrambled into a squatting position. We didn't know it at the time, but that position and me jerking away like that, jostled the baby out of her stuck position, and allowed her to shift her head into the correct position.
Midwife Andy could see the feral look in my eyes. As I stood next to the wall that had my current favorite handle to hold while squatting, she began to go over our options. Just as she was telling me the first option – which was to try that awful hands and knees position check again – I got a contraction and dropped into a squat. Something was different! The change was so fast Andy even asked, "Are you pushing out of frustration, or is your body telling you to push?"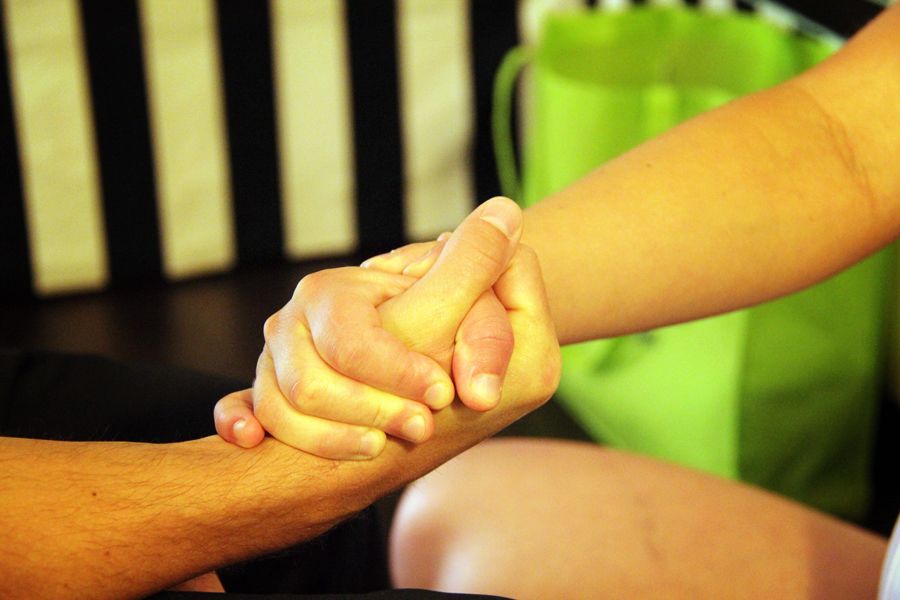 The next contraction brought the baby all the way down. I felt like I was splitting in half. I even said as much, and Andy asked me if I wanted to change positions. I shook my head. There was no possible way I could move. I was in a crab crawl position with my arms behind me on a small stool. Another contraction brought her head out. Like my other two babies, she had her cord wrapped three times around her neck. I had mentioned that to my midwives, and they had assured me that it was a very rare thing, and the odds of it happening again were astronomical, but if it *did* happen, they knew how to somersault the baby to untangle it. True to their word, when the third contraction came, they eased her around and helped me to catch her. Later they told me when Nancy saw the cord she flashed Andy a quick number three in disbelief. My babies are nothing if not consistent.
My throat was a bit raw, and I remember in a detached sort of way that I had roared loudly, once with each contraction. I say "roared" and not screamed or yelled, because there is most definitely a difference, and I roared. I roared my baby girl into the world. She was finally here!
I'll post part II of the story tomorrow. It's much more fun and interesting than part I – everything is more fun and interesting when there's a BABY involved!