Well, Internet, we made it through Karis's scar revision surgery today. (Technically it was yesterday for you guys, because once again I'm writing this post the night before I publish it.)
Karis LOVES the special attention surrounding surgery. I asked her which she would rather do – go to Disneyland, or have surgery. She didn't even hesitate in her answer. "Surgery!"
We all woke up before the sun and slogged our way through traffic to Los Angeles. Starting the evening before, it had become incredibly painful for me to walk. It felt like shards of glass were grinding against my cervix. The result of this is that I walk very slowly, pausing every so often to rest and assure myself that my guts aren't falling out.
Pre-surgery schenanigans took a couple hours. I had never been to a Children's hospital for surgery before, and I must say, they are pretty damn good at catering to children. Karis made out like Christmas morning. Every time we went to a new department someone gave her a toy or a book. Brecken even scored a pack of Legos, but they came without instructions, and I failed the part of the Mensa test requiring forensic Lego construction.
I was particularly impressed with the dude who came by with a photo album and doctor kit and talked to Karis about every step of her surgery adventure. She's an old pro, and didn't really need the reassurance or information, but if she had been nervous or scared for any reason, going through everything like that would definitely have helped.
As it was, she was very comfortable with the whole process. Just look at how miserable she was: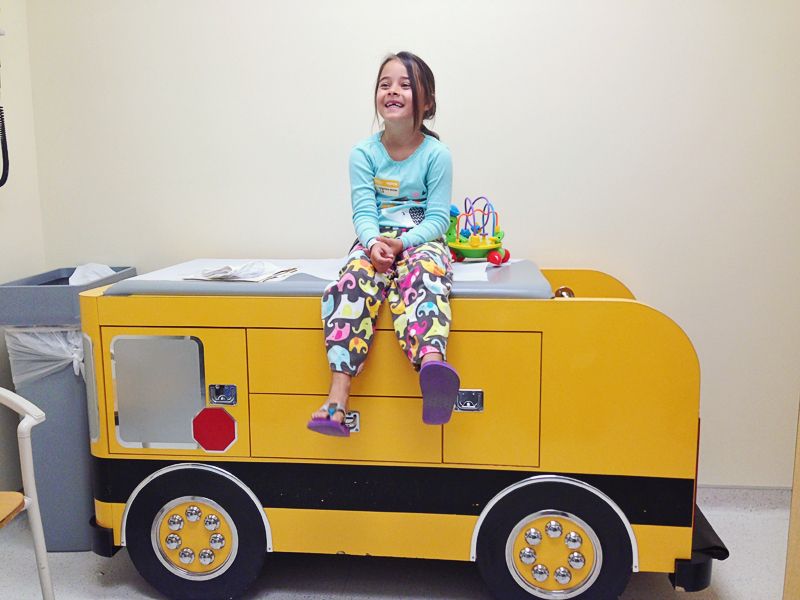 During the chaos of the morning I started having painful Braxton Hicks contractions, and coupled with my painful cervix, it had me praying I wouldn't go into active labor before we got home. I did *not* want to have my baby on the 405. (I read that around 45 babies are born on the 405 freeway every year – the most recent being just the other day.)
(Those contractions and my broken glass cervix syndrome eased shortly after we got home. *eye roll* Such cervical drama.)
This wouldn't be a complete Primamomma experience without at least one awkward moment. I promise not to let you down:
Karis was there for a scar revision. Said scar is a teeny, tiny little dog ear at the uppermost edge of her thin, barely noticeable cheek scar. I felt like an ass-hole even being there, surrounded by children with major medical issues. As I sat with her in the pre-op area, the anesthesiologist came by to ask the usual questions about drug allergies and the like.
This doctor was HAWT. Ridiculously hot. He had beautiful eyes, and was rocking a sexy scruff. He also had a large scar running from just under his right nostril to the middle of his right cheek. His scruff didn't hide it in the least. Was his scar noticeable? Hell yes. Very much so. Did it detract from his major hottie status? No. not in the least. If anything, it added to his allure. (That's such an unfair double standard. Chicks with facial scars have a much harder time making them seem sexy.)
Anyway, there I was, trying to point out the microscopic dog ear revision site to this sexy, scarred man, while my inner monologue kept chanting, "look at his EYES. Don't look at his scar. His EYES, Phillips! Look at his EYES."
After he leaned in dramatically close to see the dog ear in question, (I mean, really, come on, was it really necessary to squint like that? The scar is little, but not entirely invisible for crying out loud.) he straightened up and very charmingly said to Karis, "Your modeling career will still be intact." I laughed uncomfortably and smiled as he left, seriously considering having "ass-hole" tattooed to my forehead.
The surgery went well, Karis woke up like a champ, and we made it home in record time. I even got to take a nap when we got home! All in all, today was a smashing success. We ended the evening with a family dance party. See? We are FUN. Why isn't this baby more excited to come out and meet us?
*sigh*
Oh well. I promised that if she stayed put long enough for us to get through today, I wouldn't complain about how much longer it took her to make her entrance. So I'm not complaining.