It's a shame holding one's penis isn't a sought after soccer skill. Brecken could go pro. He spends every moment of down time on the field holding tight to his manhood lest a bird of prey swoop down and snatch it away.
We have developed hand signals to remind him to stop grabbing himself, but rather than serving as gentle notices, he'll see us waving at our groins and start shrieking, "STOP TALKING ABOUT MY PENIS!" It's very charming. At this rate, Brecken is going to grow up to be that guy. You know that guy. There's one in every community. The dude that always grabs his junk.
I am thoroughly disenchanted with all things soccer. Having witnessed an amazing coach do his thing last week, I have come to realize just how much our coach sucks. How do we always manage to end up with the duds? He sends us to the wrong fields for games, then sheepishly apologizes for his mistake when we show up rushing and sweaty, trying to make it before the game is over. He doesn't teach or correct the kids. He never made the effort to get the team sign. (I am assuming this is a standard coach job. Every other team has a team sign with their name and team members on it. It helps you find your team on the field during game days, and it really makes the team photo. But we don't have one.)
Anyway, I am so over soccer. Brecken seems to enjoy practice, but hates playing actual games. I empathize with the poor kid as he stands out there on that hot field, penis clutched in a death grip, wondering what the hell is going on. (He got hit in the head with the ball twice this last game, because he doesn't understand what is happening when they have to throw the ball back in.) I will be surprised if he wants to continue playing after this session is over. If he wants to, I'll suck it up and continue to support this torture, but if he's as over it as I am… Let's just say I wont be disappointed.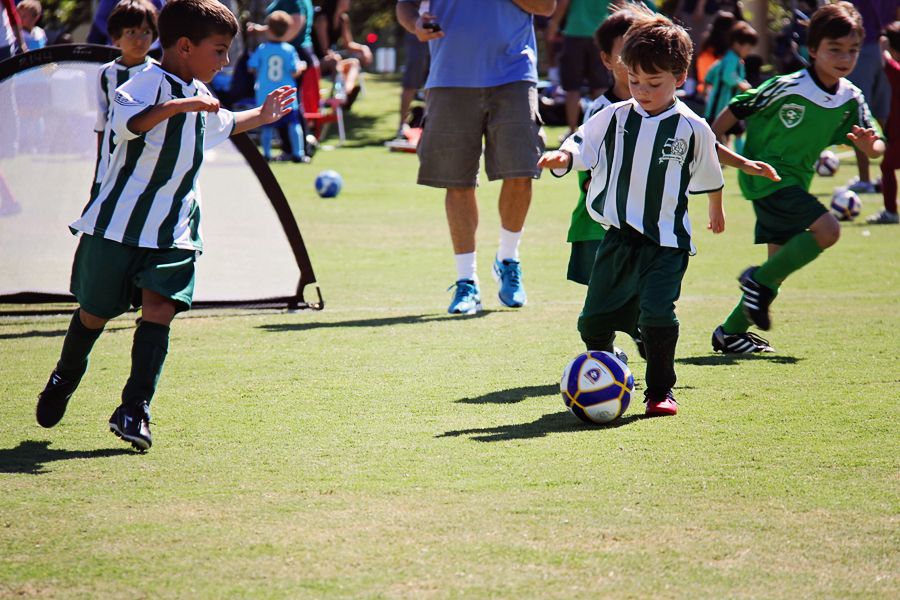 I am convinced that soccer is the parental gateway drug that leads one down a very slippery slope. Three short weeks ago I posted the words, "…I don't do minivans." Yet here I am, typing this post at my desk while a new minivan rests in my driveway. I don't even think "minivan" is an accurate description of this thing. Small Bus is a much more apt name.
Our lease was up and we knew we needed a bigger vehicle, so after much research we decided on a Nissan Pathfinder. It had the third row of seats I wanted, and the style Jesse likes. We have test driven several Pathfinders, gone to four different dealerships, and even decided on the color combination we wanted. Then Sunday happened.
We went to a dealership we had a business affiliation with in the hopes of getting an amazing deal. They are a small dealership and have limited inventory onsite, but we went anyway, knowing they could order us what we wanted. First they tried to sell us on the ugliest Pathfinder I have ever seen in my life. It was "desert sand" colored, a.k.a. "baby poop yellow". We humored the salesman and looked it over, and as I was lamenting the small size of the cargo area and the annoying aspects of the middle row being a bench instead of captain's chairs, the salesman said, "Why don't you get a Quest?"
I vaguely recognized the name. "What's a Quest? Does it seat seven?" I asked.
He nodded and answered, "It's a minivan."
Ugh. Never mind. Deal-breaker.
"It's not that bad, and it's cheaper than the Pathfinder."
"Does it have captain's chairs in the middle row?"
He nodded enthusiastically.
"Okay. I want to see it."
Jesse looked shocked. Believe me, he wasn't any more surprised than I was at my willingness to look at a minivan.
Is it my dream car? Hell no. In fact, I'll go so far as to say the design of the whole front driver area is so poorly thought out that whomever thought it up should be demoted to manual flusher at the Nissan design center. It's horrible. There is no storage in the center console, but there are EIGHT, yes, EIGHT cup-holders serving the two front seats – assuming you can call the two micro-holders that fold out of the dashboard official cup-holders. The USB port and plug are situated atop the mountain of cup-holders, so your ipod or phone or whatever you need plugged in must stay forever visible to both the hot sun, and passing vagrants intent on breaking into your car to steal stale pretzels and the like.
So why did I agree to the Quest? For the children! You see, for as bad as the driver area is, the rest of the beast is quite wonderful. It has a ginormous cargo area, perfect for stowing strollers and  bags and groceries – hell, Karis can even take up playing the cello for her musical instrument if she wants. It has automatic everything – a feature I hope my kids will tire of SOON. As for now, they sure love to push the buttons and watch the car obey them like a transformer. Karis feels like a celebrity. "I just push the button and the door glides open!"
I managed to complete all of my errands today without running any innocent people down or scratching the bus. (Knock on wood!) I wouldn't go so far as to say I was completely comfortable driving it yet, but I can see myself getting used to it soon enough.