Brecken had minor surgery on Tuesday to remove a small, painful growth on his shoulder/neck area. It was a very simple procedure, but due to Brecken's age and the nature of the surgery, it required he be put under general anesthesia. Karis had an almost identical procedure done last year (on her FACE, no less) so I was already familiar with how everything was going to go down. When Karis had her procedure done, I was cool, calm and collected. I had complete faith in the operating team and in Karis's strong, healthy little body. This time? I was a freaking basket case.
I'm assuming I have pregnancy hormones to thank for my ridiculous downward spiral this time around. I was absolutely convinced that something was going to go wrong. Every possible horrible scenario played out in my mind on a loop. I did everything short of write Brecken's eulogy. That's how insane I was about his upcoming surgery.
Jesse was out of town all week, and I would be dealing with the surgery solo. I made arrangements for Karis to spend the night at a neighbor's house and carpool to school with them so I wouldn't have to bring her to the hospital with us. Karis thought this arrangement was cooler than Christmas in August. (We had to be at the hospital by 5:00am, which is why she got to sleep over.)
Nobody knew what a freak show I had become. I kept it well hidden until Monday night. Monday night I put Brecken to bed, then went downstairs and called my mom and dad and cried like a devout Jewish woman praying at the Wailing Wall. My parents, both being operating room nurses (They have a bunch of fancy letters and titles after their names, but I don't know what half of them mean. Just know that they operate on people all the time.) tried to calm my nerves. They were very helpful. They used their own special mix of humor and reason, and I eventually calmed down enough to get some sleep.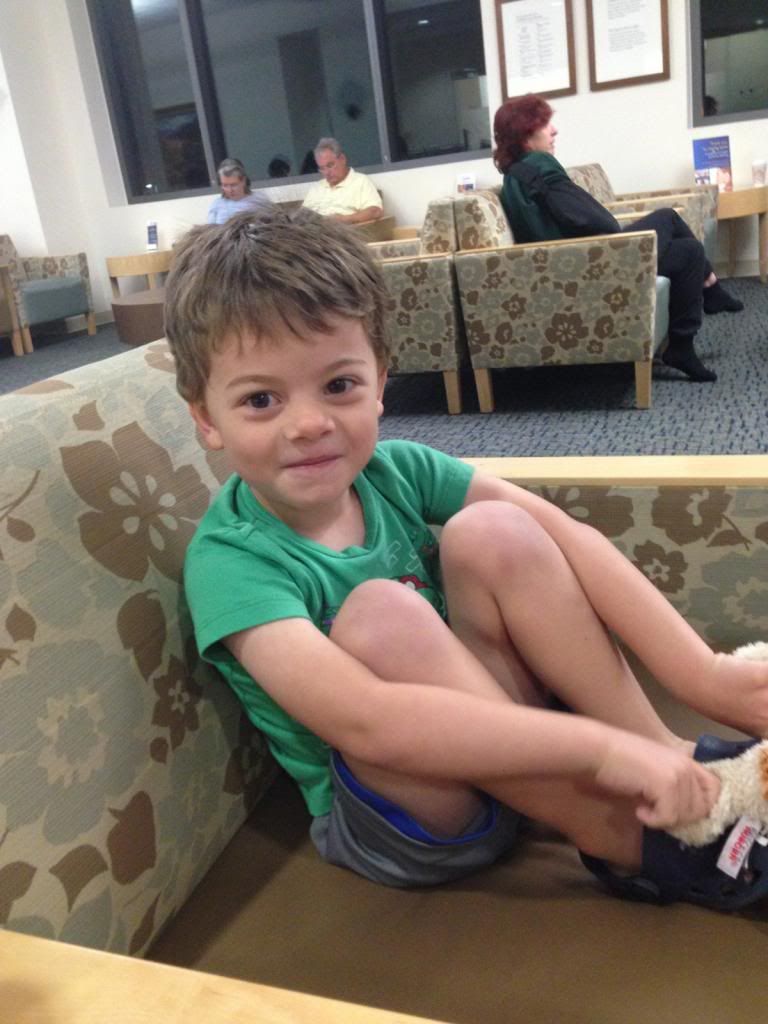 The morning of the surgery I woke Brecken up at 4:30am. He woke right up and happily danced into the bath for a quick Hibiclens wash. He was chipper and excited because I had been talking up the surgery like it was better than Disneyland. We got to the hospital and checked in, but then we had to wait around for two hours in the small, pre-op cubicle. While Karis is always very obedient during doctor's appointments and dental visits, Brecken is… um…not so much. In short, he was a pint sized little punk. He gave the nursing staff a hard time until I reminded him that he needed to be well behaved if he wanted the Angry Birds toy I had bought for him for after the surgery. (Full disclosure? That Angry Bird toy was a key bargaining piece – and it was only luck, and my crazy, hormone induced paranoia that made me buy it. I wanted him to have something to look forward to after the surgery in case he got any ideas about going toward the light.)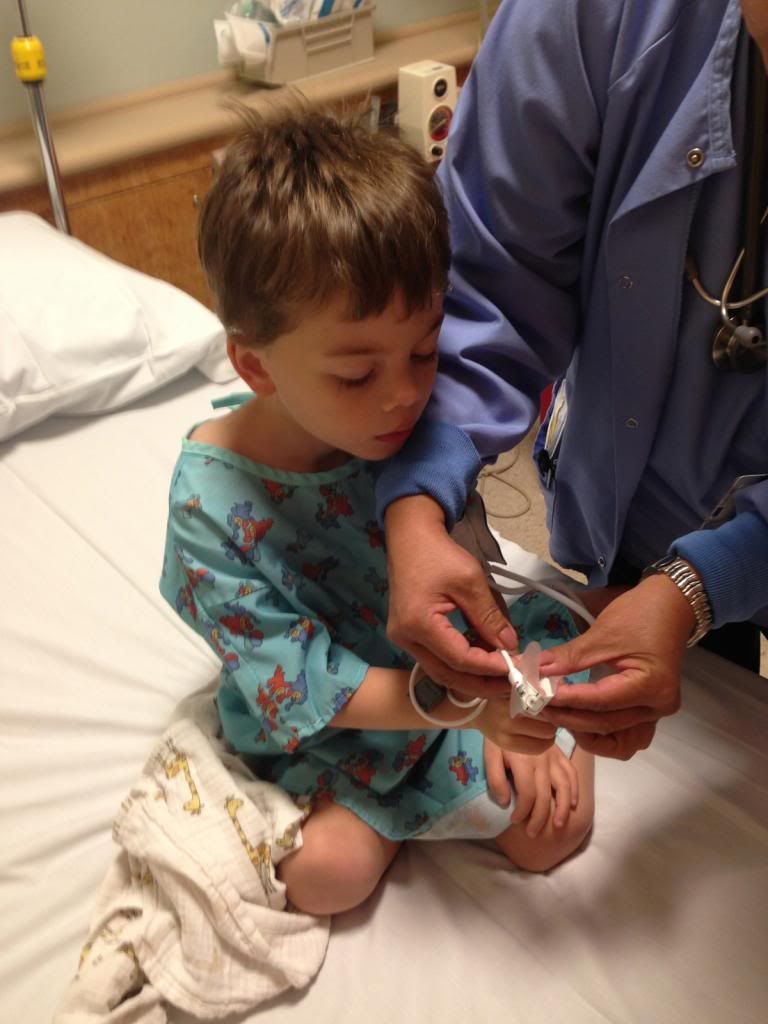 As the surgery time got closer, the anesthesiologist came by just as Brecken was swinging his oxygen saturation monitor around his head like a lasso. The doctor smiled indulgently at me, turned to the nurse, and said, "I'm just going to go ahead and give him a little something to help calm him down. Let's do… 10mg of Versed."
Brecken crowed "Wahoo!" and started breakdancing at the foot of his bed.
The doctor turned back to the nurse and said, "Let's make that 15mg."
The nurse's eyes got round as saucers and she glanced at me, then back to the doctor. "But he's so little!" she said.
The doctor looked at Brecken, his skinny limbs flying hither and yon about the cubicle. After a beleaguered sigh the doctor shrugged and said, "Okay. 10mg then."

The Versed took a few minutes to take effect, but once it kicked in Brecken went to his happy place. There is nothing quite as entertaining as watching your five year old flying high as a kite. He was so out of it that he didn't even notice when they came to wheel him away. I gave him a kiss, and he was gone. Lightening speed. I remember waving to Karis, and her brave smile as she was wheeled away. I didn't get that moment with Brecken. He was already three sheets to the wind.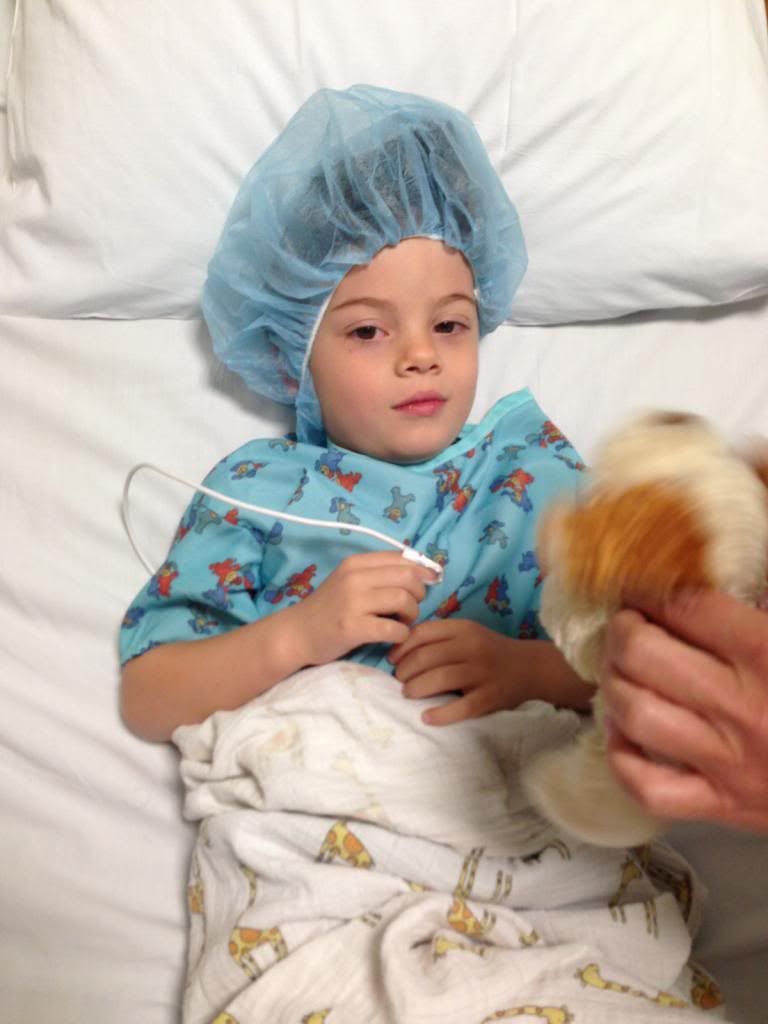 (The paranoid, crazy, pregnant woman that has taken over my usually reasonable brain was upset by how quickly he was taken because she didn't have time to visualize his guardian angels surrounding him. Go ahead and laugh at me, folks. I do this every time my husband drives away, and every night as I tuck my kids in bed. I count my blessings, give thanks for my healthy children, and envision their guardian angels snuggled up beside them, reporting for duty.)
I wasn't crying. I was just kind of stunned for a second. I picked up my bags with the intention of heading for the waiting room, when the nurse noticed me and said, "It's always hardest on Mom."
I was perfectly fine until she said that. Then the water works started. I quickly thanked her, and power-walked to the waiting area, straight through it, and into the bathroom where I could have my emotional breakdown in relative peace. (I'll take crying quietly in a bathroom stall over sobbing through mouthfuls of Indian food any day! It's much less humiliating.)
The surgery went smoothly. The calcified growth had been wrapped around a nerve, so Brecken wasn't being melodramatic when he screamed every time we touched his neck. They let me go back to the recovery area right away because little kids usually freak out in recovery and having a familiar face to wake up to helps calm them down.
When I got to his bedside he was breathing in that shaky way one breathes after having a massive screaming or crying fit. He was nowhere near awake yet. He would startle and jerk and toss his body around – at one point almost making it off the head of the bed. They pulled him down to the middle so the railings could help hold him in. It reminded me of the large dogs waking up from surgery at the vet hospital. They would be so confused and dizzy. They would jump up and try to run, but they would lack all coordination and go crashing into walls or against the bars of their containment areas.
It took Brecken a long time to wake up. Over two hours. It was hard to watch. Once he was lucid enough to recognize me he became a little easier to handle. He hated having his ox-sat monitor attached to his finger and he especially hated his IV tubing. We couldn't take either off until he was a little more awake incase they needed to administer emergency meds or something. Once those were removed he was happy as a clam. He enjoyed the popsicle I had waiting for him (compliments of his sister promising him he would get a popsicle because she got one after her surgery and when the staff heard he was expecting it they made sure to order one for him.) and he was thrilled to get to ride in the wheelchair. He was so loopy that he couldn't be trusted to stay upright in the chair, so I had to hold him on my already occupied lap. I was essentially buried under a baby, a five year old, and all our bags. It was very comfortable. (In opposite land.)
Once we were home I had to shepherd Brecken to the couch and only managed to keep him there by letting him watch forbidden fruit (SpongeBob). Much like the dogs at the vet hospital, he didn't realize how uncoordinated he was. He would get up to go to the bathroom and if I wasn't leading him, he would walk into a wall. Finally I lay down beside him, wrapped a securing arm around his middle, and fell asleep to the soothing sounds of ♫ Who lives in a pineapple under the sea?♫. (Hey, don't judge. I had been up since 4:00am!)
He was running circles around me by the afternoon. He never needed any pain medication – not a single drop of Tylenol. He was sassy and bold and attempting to finesse his favorite breakdancing moves by the time his sister came home from school.
I am the luckiest mother in the world.
I don't know how parents handle their children going under for things like open heart surgery. That's gotta take a toll.