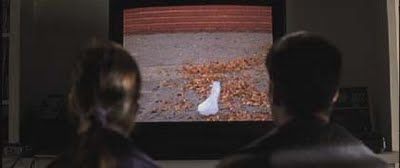 Do you guys remember the scene from American Beauty where the kid watches the plastic bag floating around in the wind? Of course you do. Everyone was mesmerized by that stupid scene. (myself included – but now, all these years later, I fail to remember why.)
Well, I just spent ten full minutes watching the waste management guy – aka the garbage man – unload a garbage can to a neighbor's house. I couldn't look away. He drove up in a big truck. There were columns of cans in the truck bed stacked seven and eight high, nested into each other. You know the kind of cans I'm talking about, right? Not those little ones like Oscar the Grouch lived in, but the big, rolling kind. Those suckers hold 95 gallons of crap.
I watched him scale a tower of cans, perch atop one column, and wriggle loose a can from an adjacent column. I was impressed. Those suckers are heavy! Once the can was free, he scampered – yes, scampered like a fleet footed monkey – down the column of cans and disappeared behind a few cans for a moment. He was putting the wheels on the selected can. He made remarkable time. I'm not well versed in what is required to secure the wheels to the bottom of a trash can, but I'm pretty sure it's just a matter of putting the axle through the holes and securing the second wheel. Whatever it is, if I ever get into racing rolling garbage cans, I want that guy on my pit crew.
Having finished his ministrations, he wheeled the new can over to my neighbor's house just in time to be stopped by my other neighbor who is always riding around on his bike and offering Red Stripe beers to the men of the neighborhood. I could tell Red Stripe neighbor was disappointed to have missed all the excitement. We take pretty good care of our cans here, so watching a new one arrive is a rare and beautiful treat.
It was long about this time that I happened upon a morsel of self-discovery; I have become that creepy, reclusive old lady neighbor that spies on the world through her blinds. I either need to knock it off, or fully embrace it by taking up chain smoking and starting to attend church regularly. I'll think about it and decide later.
Ooh, New Family neighbor just got a visit from the Fed Ex guy! He's going to have to come back after three when school lets out and the mom walks her oldest son home…