Ok, it's Halloween, and a Wednesday. Those two things mean I am legally obligated to post on my blog today. Here's my dilemma: It's Halloween MORNING, so I don't have the fun and zany pics of our costumed adventures yet. That's disappointing at best, devastating at worst. Don't worry, Internet – I promise to post Halloween pics tomorrow!
In the mean time, I thought I would share with you a recipe I invented. I'm pretty much on par with renowned chefs that studied at Le Cordon bleu when it comes to experimenting in the kitchen, so I totally understand if you get a little intimidated by this recipe.
I call it….drumrollplease…. Zombie Cookies!
See how appropriate this is? Zombie cookies for Halloween? Gosh I'm clever!
First you make a batch of regular chocolate chip cookies. I recommend Nestlé Tollhouse cookies for this zombie recipe because Nestlé corporation is already sinister and "of the devil" as old Auntie Mabel would say.
Once you spoon dollops of dough onto the cookie sheet you add a mini marshmallow to the center and squish it down a smidge. (This is the part I invented! Isn't it genius?!)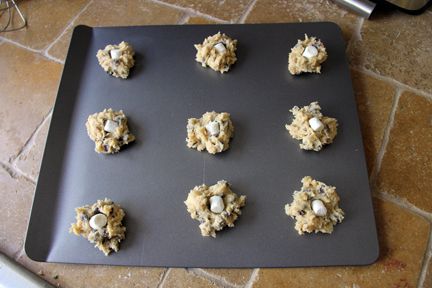 Follow cooking instructions on the chocolate chip bag. They cook up real purty.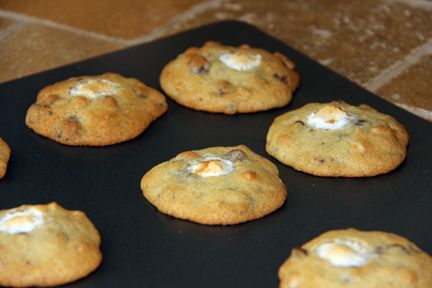 Pull 'em out, let them cool just enough so you don't burn the roof of your mouth and ruin your entire cookie eating experience, and voila Zombie Cookies!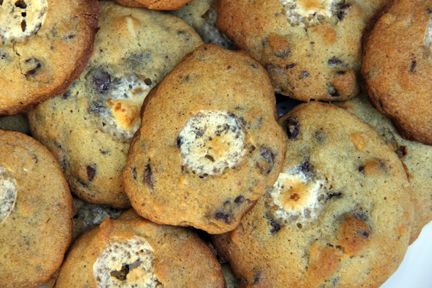 Have a happy and safe Halloween, Internet. I look forward to your stories and pictures of tonight's exploits!