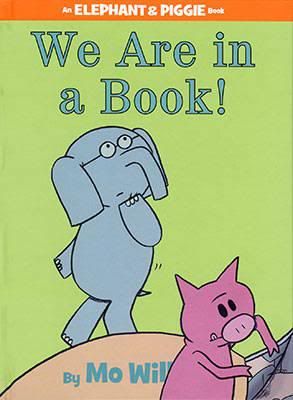 Karis is at a time in her life where she is growing and changing daily. Some days are good days, some days are not-so-good days, but every day is an adventure!
I love reading, and I love books. Now that Karis can read, I am thrilled to see her love of books grow exponentially. Sure, she's always loved to be read to, but being able to read things for herself has given her a new passion for books.
Sometimes I'm slow to catch on to things, but I eventually manage to put two and two  together. This morning I realized that Karis has a favorite author! Her first favorite author!! (*cough* besides ME, of course!)
She has been going on and on about the Don't Let The Pigeon… books. I know of these books. I love them too. I've read them to countless children. When she got a book for her birthday called We Are In A Book! She went nuts over it. We read it several times a day. She does funny voices and really gets in to the telling of the story. The writing style seemed familiar to me, but I didn't realize it was by the same author until I went to order some more Elephant and Piggie books for her birthday.
So, it's official. Karis has a favorite author. Mo Willems.
If you have a young person in your house, I highly recommend checking out some of his work.