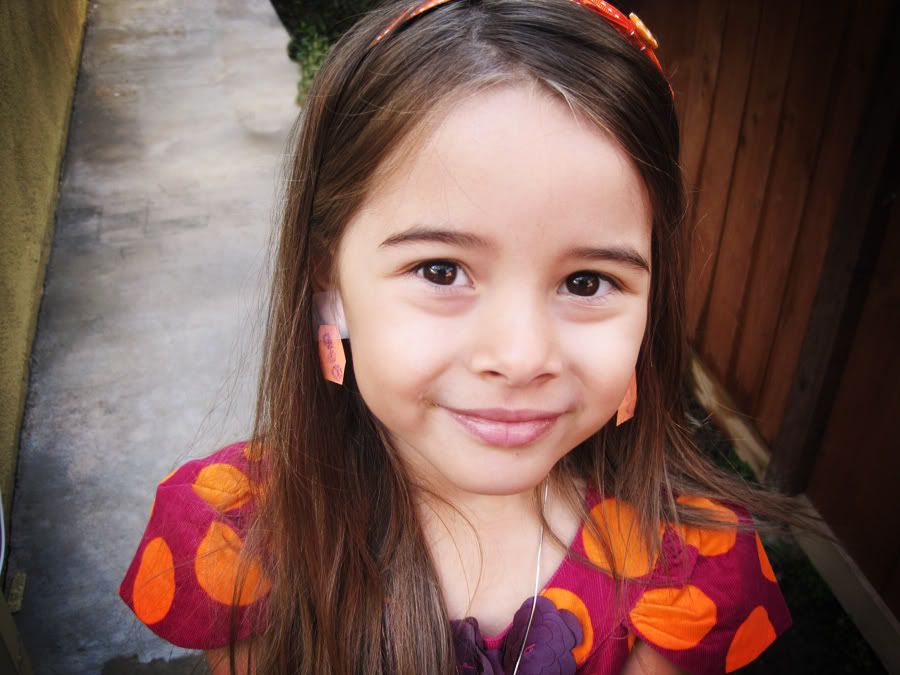 Karis is very much a girly-girl fashionista. She has a jewelry box overflowing with bobbles and sparkly things. The one thing it doesn't have? Earrings.
I wont let Karis get her ears pierced until she's old enough to take care of her ear holes and earrings. The fact that her ears aren't pierced does not make her yearn for earrings any less. She has had the occasional clip-ons, but they only last a few days before one of them gets eaten by the dog, or lost.
The other day she decided her outfit called for earrings – so she made herself a pair!
Please note the fact that they are color coordinated to her dress. She got orange construction paper, cut out earrings, drew purple jewels on them, and then asked Daddy for two pieces of tape.
ADORABLE.
She has since moved on to using real jewels for her earrings. (I got her a sheet of bindi stickers.) My favorite style is when she both colors jewels and sticks bindi jewels on them. I must remember to steal a pair to put in her memory box. I'm sure she'll get a kick out of them when she's older.
I can't wait to teach her how to sew! I pray she continues to celebrate her unique talents, and doesn't let the other kids at school dampen her creativity.