As I type this I am surrounded by blood curdling screams assaulting my ear drums. Shrieks of terror are reverberating off the walls.
Is it a scary movie? No.
Corporal punishment being dealt? No.
It's my kids.
They are screaming and threatening seppuku because I informed them that they would not be allowed to so much as touch their Halloween loot unless they ate their dinner.
What did I make for dinner? Liver? Escargot? Grub salad a'la Fear Factor?
No. Nothing so creative as that. I actually made a brown rice, spinach casserole. I know it sounds gross, but it's actually quite delicious, if a bit bland. What I made for dinner tonight isn't really relevant though. My kids react this way every night at dinner, regardless of what's on the menu.
I don't know what their deal is. They used to eat a wonderful variety of foods. They would at least try anything I put before them. Now the little bastards wont even eat old favorites. Gone are the days when they would eat lasagna, or spaghetti – I mean, COME ON! Italian food is some serious comfort food. EVERYBODY loves Italian food.
As far as I can tell they are now subsisting on yogurt, Cheerios, granola, cereal bars, the occasional frozen waffle, Kraft Macaroni and Cheese (but ONLY if it's in the shape of a f#@king CARS character) and a daily prune that they are willing to eat because it's sweet and sticky. If Karis were in charge, the only thing she would ever eat would be white rice with soy sauce. Yup – the nutritional equivalent of a bag of sand. (Actually, to be fair, Karis will eat salad, just as long as it is ONLY lettuce and carrots. None of those disgusting tomatoes – or, GOD FORBID an avocado.)
I'm at my wits end. I guess I'm not alone, because there are a whole host of cook books and advice books out there for parents in the same situation. I am going to comb through several of them and see if I can't convince my spawn to eat something that hasn't partnered with Disney Corporation. You know, something that rhymes with begetable.
This book looks promising: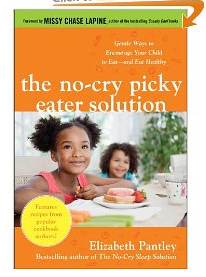 Has anyone tried it? Do you recommend it? Am I going to have to blaze the trail on this one?
"No-cry" huh? If I can actually get through a full dinner without my progeny reenacting certain scenes from The Exorcist I will be a very happy mom indeed. I'll let you guys know how it goes.