Aw yeah, where my chefs at? It's time for another rousing game of Make Dinner Your Bitch!
See this?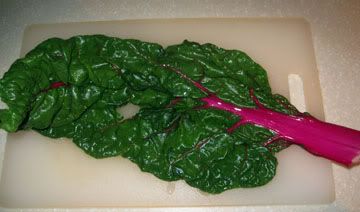 This is rainbow chard. It's so freaking beautiful I just want to rip it up and eat it! Oh wait, I DID.
Let's not get too far ahead of our damn selves. First put a big ass pot of water on the stove to boil. Then rip up the chard into roughly two inch pieces. Don't be afraid to take out some of your aggression on the stems too. Fuckin' stems, lookin' all pretty with their vibrant colors and shit. Colors mean vitamins – so chop that shit up too, and add it to the mix!
When your big ass pot of water is boiling, dump a 16 oz bag of pasta in there, then dump the chard on top. I use brown rice pasta because I'm all about treating my body like a temple up in here – but feel free to use whatever kind of pasta does it for you. Hell, it's none of my damn business if you get all aroused by white flour and gluten. Knock yourself out.
When the pasta is al dente (That means firm, for all you culinary 'tards out there) drain it in a colander.
Let's all just take a minute to appreciate the cleanliness of my sink. Not only is it scrubbed to a shine, I put orange peels down the disposal to make it all citrusy fresh. It's the little things, Bitches. The little things.
Next, return it to the pot, pour some olive oil in there, and dump a heaping table spoon of minced garlic on top. Mix that shit up.
That's it! Dinner is your bitch.
I served it with Locatelli Parmesan cheese and herb Focaccia bread on account of my husband's Locatelli fetish.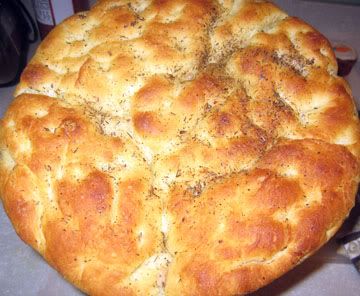 I bought this bread pre-made – not that I couldn't make my own damn Focaccia bread. I could. And it would be the best damn Focaccia bread you ever tasted. It would be so good, it would ruin all other Focaccia breads for you for the rest of your life. I digress. Enjoy your meal.