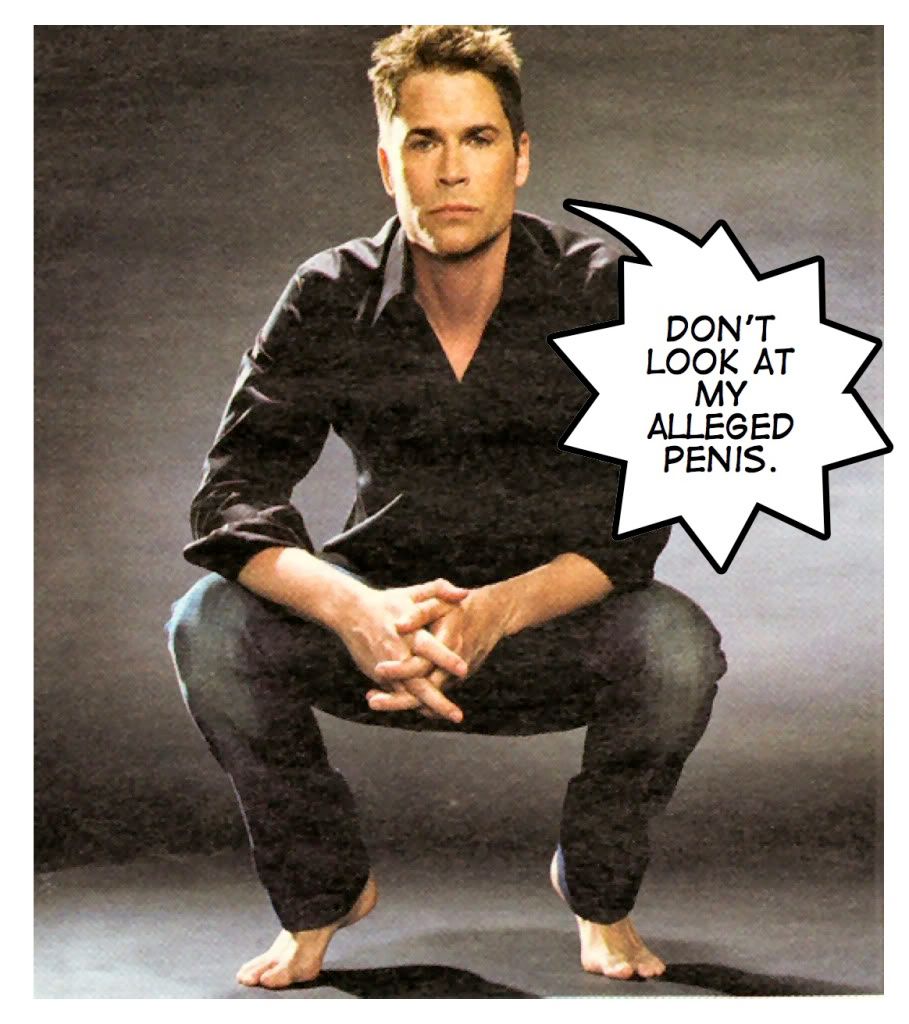 When I was a nanny in LA, I was romanced by an agency that had Rob Lowe as a client. Rob and his wife were looking for a nanny at the same time I was looking for a job. Sadly, they lived in Santa Barbara, and that was too much of a commute for my liking, so I declined to interview with them.
My girlfriend was willing to interview with them, but unfortunately for her (and, as it turns out, them) they hired another nanny. This other nanny would later go on to attempt to extort 1.5 million bucks from them, and allege that Rob sexually harassed her, groped her, and showed her his penis multiple times. (None of her allegations were ever proven, but am I alone in considering being sexually harassed by Rob Lowe to be a job perk as opposed to a problem?)
If I were his nanny, I would probably be the one doing the harassing. I'm just sayin'.
*cough* But that was all a very long time ago. Back when I was a young twenty-something, prone to school girl crushes. I have since become a happily married woman, and graduated from harboring crushes, to having The List.
Everyone in a relationship knows what I'm talking about. The List is your top three celebrity heart throbs that you are allowed to sleep with, no questions asked, if the opportunity ever presents itself.
Jesse and I were rambling about our lists last night as we drifted off to sleep. He put Ashley Greene on his list. (I quite agree with that addition. I might even put her on MY list.)
I had originally brought up The List because earlier in the day I had overheard a young couple talking arguing about it. The girl was apparently upset by her boyfriend's List. His List consisted of "Any Victoria's Secret model. Ever." She argued that that was too vague, and then she got all bent out of shape because he "wanted to sleep with a bunch of models."
It was all I could do not to butt in and say, "First off, LOOK at him. He could meet every VS model that has ever lived – including any that may have been maimed in some tragic accident, or lost their sight – and there is no way any of them would ever sleep with him. I don't care how dazzling his personality. Secondly, the fact that your boyfriend wants to sleep with Victoria's Secret models should not be a surprise to you. It should be common knowledge."
Who's on my List? I'm not telling. But one of them may or may not be pictured in this post. (School girl crushes die hard.)