This past week I have been channeling my inner Crafter. That's right, I said Crafter. We all know of at least one Crafter. A Crafter is usually peri or post menopausal, and has an affinity for wearing sweaters that have been liberally festooned with puff paint and large plastic jewels. True Crafters manage to incorporate at least one image of a cat on their sweater.
At any given time, you can find a large selection of Crafters milling about the cutting table at your local fabric store. They can also be found ogling shaped buttons in the notions section.
A Crafter's dwelling can be easily spotted from the street. Most Crafters' yards sport a miniature flag pole from which hangs a bright banner depicting a seasonal scene. At the very least, a Crafter's door will feature some form of wreath – usually made from dusty silk flowers – extra points if they've managed to secure a beady eyed plastic bird in there somewhere.
I have warred with my inner Crafter for many years. I silently reprimand her whenever I pass a craft store and her pulse begins to race with excitement. Every so often, when she can be silenced no longer, I will let her loose. Through the years, she has managed to teach herself many different things. She is a renaissance Crafter. A jack of all crafting trades.
I have to keep a tight reign on her though, lest she overpower my semi-sophisticated self. Dear God, if you ever see me wearing anything with a cat on it, know that she has overtaken me, and please, put me out of my misery! Anything that has been Bedazzled is also a red flag.
Anyway, like I said, this past week I have let her go nuts!
Last Friday was a girlfriend's husband's birthday. His wife was planning on hiring him a few strippers, but she had to cancel the strippers at the last minute because she had forgotten their kitchen was being renovated that day. Needless to say, he was disheartened. I was scheduled to attend a little soiree at their house on Saturday. I decided to make the birthday boy an edible stripper. I had a few extra boxes of cake mix left over from the holidays, so I let my inner Crafter out of her cage, and she went to town.
Cocoa the stripper (yes, she was chocolate!)
On Tuesday I finally motivated myself to finish the last two squares on a mural I've been working on since last fall. I have had this thing 90% finished for several months. It hung in the basement play area, mocking me softly with its two blank squares every time I passed by. Well, now it's finished!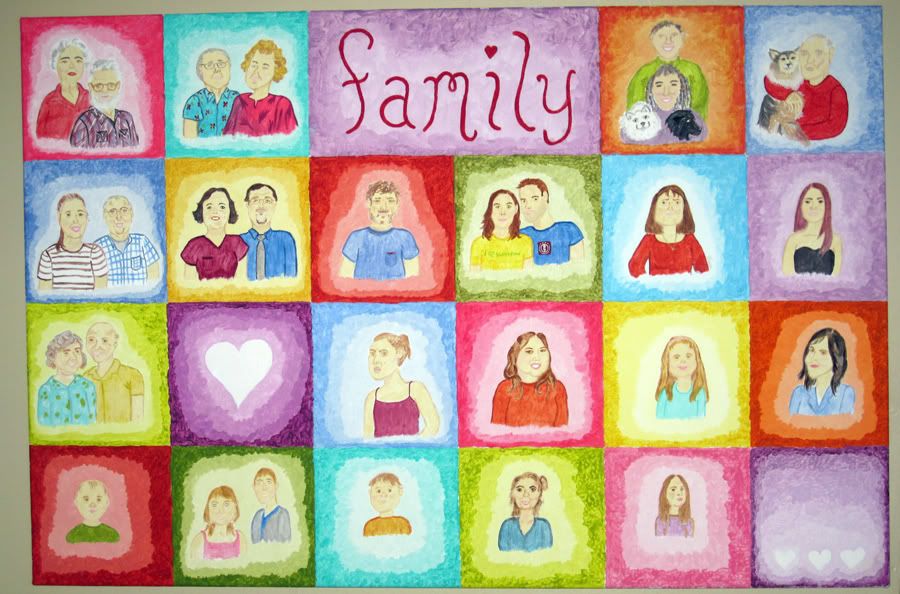 It is a 2′ by 3′ mural depicting various members of my family, both living and passed. No, they are *not* supposed to be caricatures. My painting strengths just happen to lean more towards the cartoonish side of life.
Gloria & Papa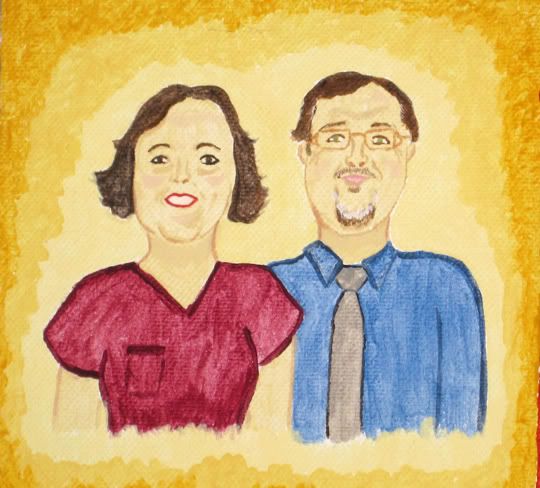 Mom & Dad
Aunt Bea & Uncle Lloyd
Lastly, Karis asked me to make her a mermaid costume. Never one to turn down a reason to visit the fabric store, I gladly accepted the challenge.
I stumbled through a fabric remnants bin until I found the perfect shade of Lycra. I paired it with some sequined material for just the right amount of iridescent splash. (Pun intended)  I spent about 90 minutes piecing this little number together today. Here you have it:
For those of you that are unaware, Karis informed me while modeling for these pictures that *this* is how a mermaid poses.

This week saw a trifecta of crafting goodness! Next you hear of me I will be collecting creepy life-like baby dolls and referring to them as "my little lovelies". I may or may not also begin to smell distinctly of dried urine and stale cigarette smoke.