April 23, 2007
Karis and I returned home Saturday from 10 very long days away from The Boy. We went to LA to see Ella and Aunt Dani, and then drove up to Sacramento to visit my family and meet the new baby. The trip started with me going to the wrong airport! I failed to double check the airport call letters and assumed I was supposed to go to Dulles. When the kiosk couldn't find my flight info I asked an attendant for help. She clickety clacked on her keyboard and said, "Oh, yep. You're at the wrong airport." After my initial "Oh my GOD – you're kidding!" I took the whole thing in stride and she managed to get us on a direct flight to LAX instead of Burbank landing at the same time. I reveled in our good fortune. The airport was a ghost town. No lines ANYWHERE! We went right through security and had essentially an entire terminal to ourselves to crawl around in. We also had the luxury of an entire row all to ourselves for the flight.
When we landed Dani drove us to Ella's and we pulled up right as she was getting out of her car from school. Wendy and John hadn't told her I was coming just in case my plans changed, so it took her a minute to realize that I was actually standing in front of her gate. I got a big hug followed by a delightful afternoon of visiting with The Beans and family. It was so sweet to see Ella and Karis play together. The last time they saw each other Karis had been too little to be much fun.
Before heading to Dani's for the night we gave Ella and Karis a bath together. It was surreal to see my Ella Beans and my daughter together in a tub splashing and sharing mermaid dolls. I never would have even dreamed up that scenario 3 short years ago!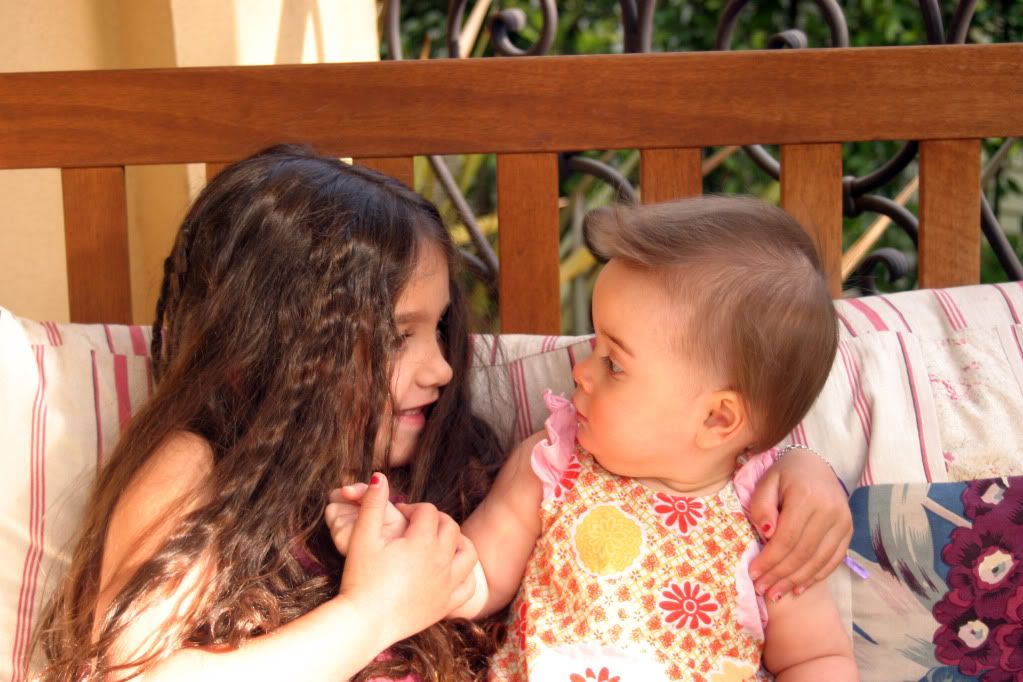 The next morning David took us to breakfast while Dani slept in. Karis flirted with David the entire time, sharing her special toys and munching on pancakes. David is wonderful with children. He talked to her and explained things to her and kept me in stitches for most of the morning. The drive up to Sacramento seemed to take FOREVER. It was like we were lost in a time warp. We finally got there around 8:30pm. Dani got to meet the family and I got to see baby Kurt. He seemed SO small to me. Everyone kept trying to convince me that Karis had been that small when she was born, but I just wouldn't buy it. Maybe he seemed so small because he was skinny. Karis had been an inch shorter than him, but a whole lot chubbier.
The following days were a whirlwind of visiting and going through my old storage unit packing stuff up to ship to the new house. We had a nice dinner with Dad and Ginger. I actually saw Ginger a few times this visit and she was always a delight! She was sweet tempered and helpful. Little Gloria was a delight as well! She was helpful and loved loved loved to play with Karis and go on errands with me. She is growing in to such a mature, sweet young lady. Bob spoils her shamelessly, but with the spoiling comes good parental guidance, so the result is a very happy, not-shallow-and-snotty little girl.
Mom and I spent a late night going through old photos from the seventies. I learned a few things about mom that I hadn't known before. She was such a hottie! She's still quite attractive, but there's no denying the beauty of youth. She was a stunner in her day.
It was so wonderful to come home to The Boy. He had cut his hair short – my favorite look on him these days. He had been so worried that Karis wouldn't remember him. She looked at him a bit unsure for the first 15 seconds or so, then it all seemed to come flooding back to her and she started babbling to him, telling him all about her trip I'm sure.
The next morning The Boy kept taking her outside to walk around the yard and get fresh air. They ended up sitting in the back yard under the open window I was sitting near. I could hear him talking to her and her excited babbling in response. I peeked out at them and smiled as Karis crawled and wobbled all over her father. A sudden welling of tears blurred the scene and I pulled back from the window. I love my family so very much and am so grateful for the privilege of witnessing such sweet moments.