Seren has spent this first year of her life sleeping in a travel crib. We got it when we lived in a teeny tiny NYC apartment. It served well for Karis until we moved into an actual house and inherited a cute Jenny Lind crib from a family friend.
Brecken also spent the first year of his life in the travel crib. We kept it next to our bed in the master bedroom, too nervous to leave him unattended with an exuberant toddler in the next room. When he outgrew it around eleven months he graduated to that trusty old Jenny Lind crib too.
Well, the Jenny Lind crib has long since been repurposed into a toy table and a fabric rack. With Seren able to pull herself up and shake the travel crib like King Kong it was time to get her a proper, stable cage. I mean bed.
I went to Babies R Us and found a not-too-ugly crib for two hundred dollars! Perfect! What are the odds that the ONLY crib I didn't find completely fug also happened to be the least expensive? Jesse would be thrilled!
Except.
That crib had been discontinued, and they couldn't sell me the floor model for liability reasons. "Why not?" I asked. "Because I put it together." The butchy team member answered. "But I'm going to take it apart and put it back together myself." I said, reasonably. She then launched into a long monologue about the strict California liability law systembeuracracyohmygodmakeherstoptalking.
I asked if any other stores had the crib in stock. Two did, but they were far away and it would take two to three months for them to be shipped, because that makes perfect sense?
Fine.
I went online in search of a crib. I found some. Boy did I find some! Sadly, all of the interesting, non-ugly, vintage-y cribs were a bajillion dollars. Even the super ugly, yet somehow extremely popular sleigh bed cribs were mad expensive. Why would I want to spend ridiculous amounts of money on a piece of furniture I found extremely depressing? Then I found a semi-classic looking crib for a little over three hundred bucks! Is it my dream crib? No. But it was as close as I could find on a budget. Plus, I had plans for this crib. Oh did I have plans!
This crib's finish was a bit meh in my opinion. I have had it up to my armpits with mass-produced, cookie cutter things. I decided to make this crib a one-of-a-kind piece of furniture. Enter Annie Sloan chalk paint.
I have to give a gold star to my husband for not batting an eye when the first thing I did to this brand new crib when I took it out of the box was take a sander to it and round off its edges in a charming, uneven fashion.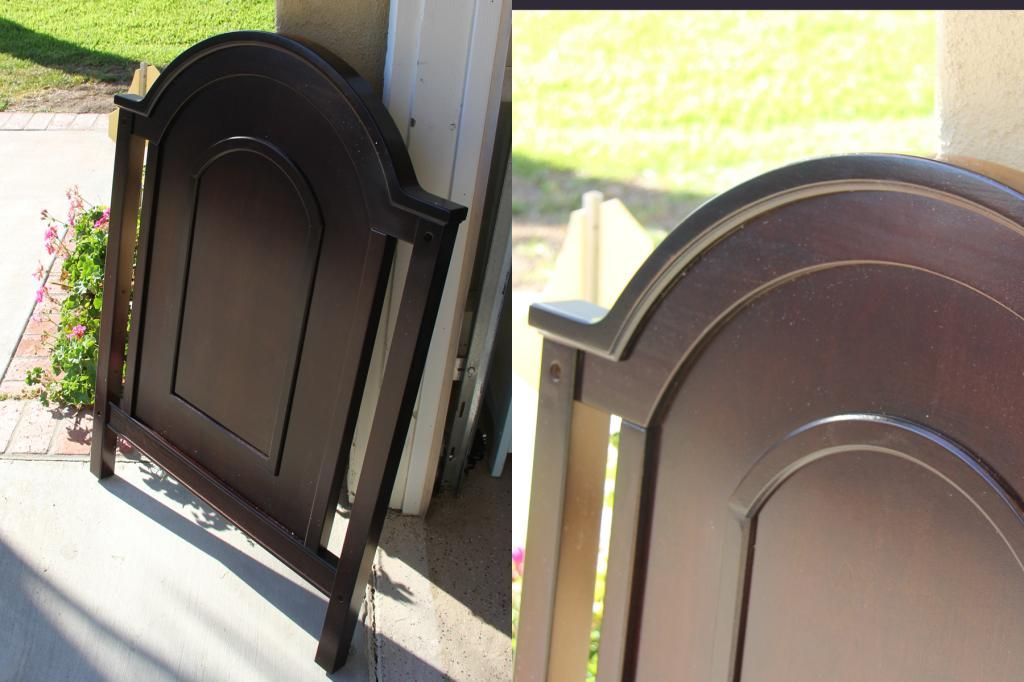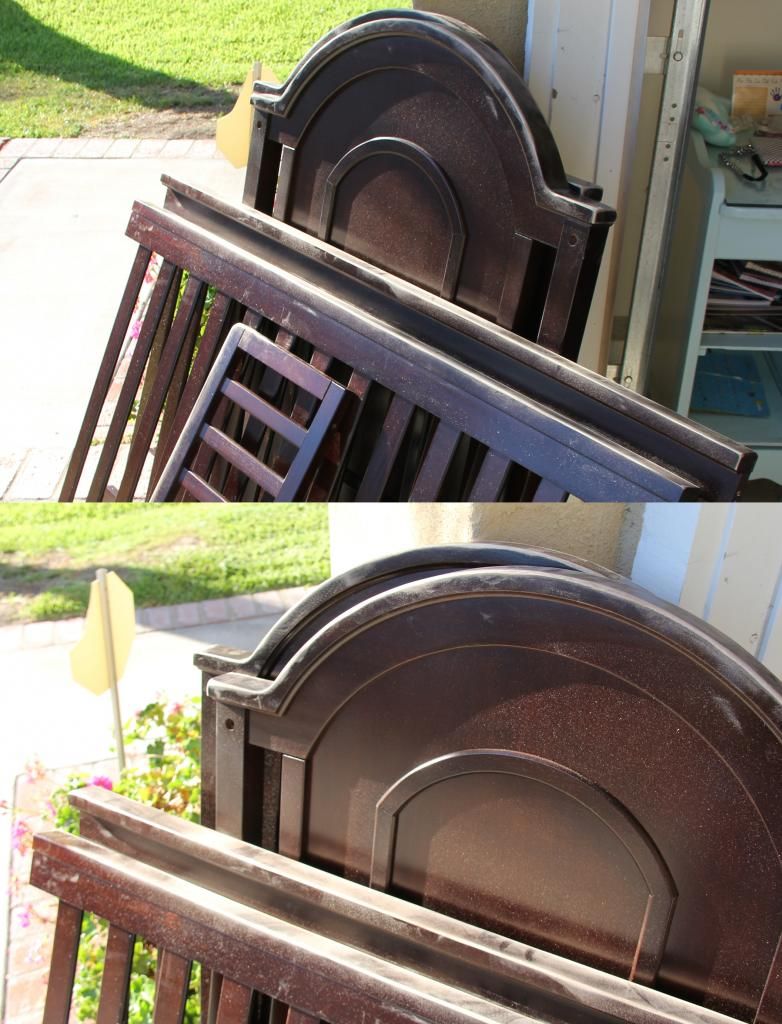 Then I started to paint it! I got the first coat finished that night, then the next morning I did the second coat. It looked good, but it was missing something. This crib was calling for a fleur de lis! I put the crib on hold and got all dressed up for a mom-date with Mimi! She took me out to sushi for my birthday. It was the first time I had eaten at a restaurant without a kid in years. Years. I'm not even exaggerating. After lunch, Mimi chauffeured me around to various home improvement stores to check out their molding selections. They sucked. Not a fleur de lis to be found. Michaels came through with a flat fleur de lis, and I bought two, but I didn't love them. I took them home and sanded their crisp edges until they were softly rounded. Once I attached them I realized that not finding a fleur de lis in the molding section was super lucky, because these looked great!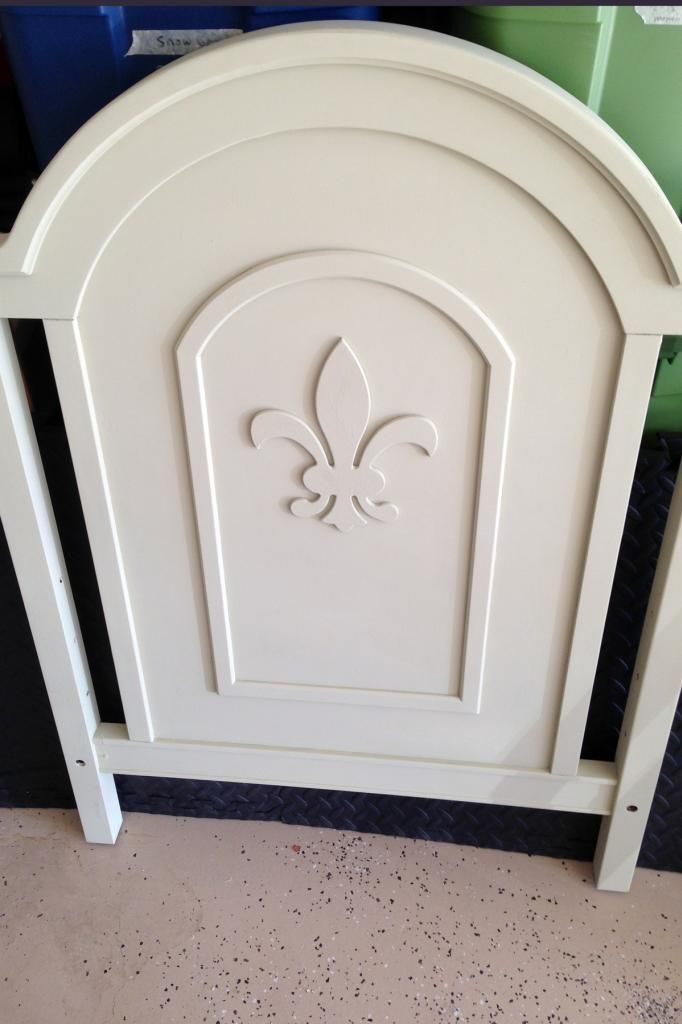 Finally I applied the wax coats. First clear, then dark. That wax is like magic. Suddenly my crib looked like it came out of a fairy tale. It's charming, and unique, and one-of-a-kind. Totally worth the sore hands.
I wish I had a cozy little nursery with sunlight filtering through lace curtains to showcase the finished product, but Seren sleeps in my room and will continue to do so for the foreseeable future, so you'll have to settle for a shot of the crib in my living room. Pretend it looks like a nursery from a story book cottage.